Please evaluate your family's health carefully before visiting a local playground, and please use hand sanitizer and follow all mask and social distancing requirements.
Thank you to Shari Bartholomew for writing this review of Lincoln Park in Lexington! If you would like to submit a paid review of a local playground, please email barbarae@macaronikid.com for advance approval and guidelines.
Lincoln Park
Lincoln Street, Lexington, MA
http://www.lexingtonma.gov/parks-playgrounds-fields
Date/Time Visited: Monday, May 16, 2016 at 2:45 pm
Bathrooms: Yes
Parking: Ample
Shade: None
Benches/Tables: Yes
Additional Features: Baseball field, soccer/lacrosse fields, bike rack, fitness trail
This playground is an amazing place to play! Surrounded by sports fields and entirely fenced-in, kids have lots to do and see here. Parents can enjoy the many wooden benches, assured that their kids are able to play safely within their line of sight. The gate did swing open at one point while we were there; you may just want to be sure it latches behind you when you enter.
There are two main structures - one for the toddler crowd (ages 2-5) and one for older kids (ages 5-12). Both have lots of slides to choose from; there are three on the smaller structure and five on the bigger one. The smaller play area also has a tunnel to climb through, gears to play with, a ladder and some steering wheels.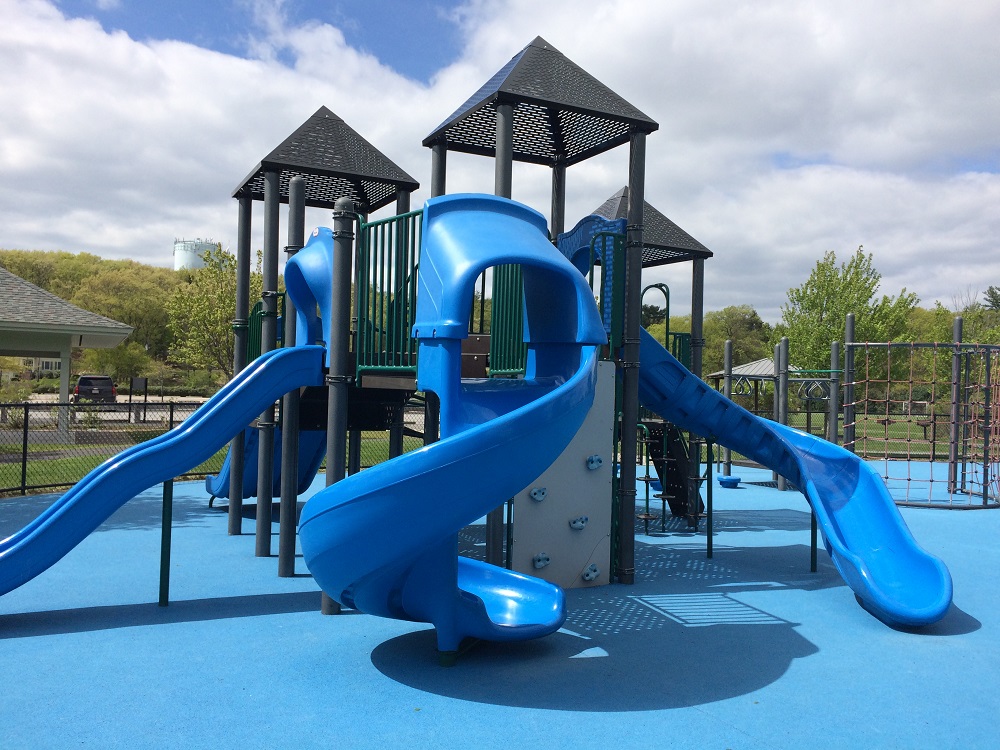 In addition to the slides, the bigger structure also features a rock climbing wall, a wobbly bridge, and some ladders. Adjacent to this structure is a set of monkey bars and a climbing wall made of rope. To get between the two, kids can jump across some "toadstools" (I'm not sure what their official name is!). My kids had a lot of fun trying to get across without landing on the ground.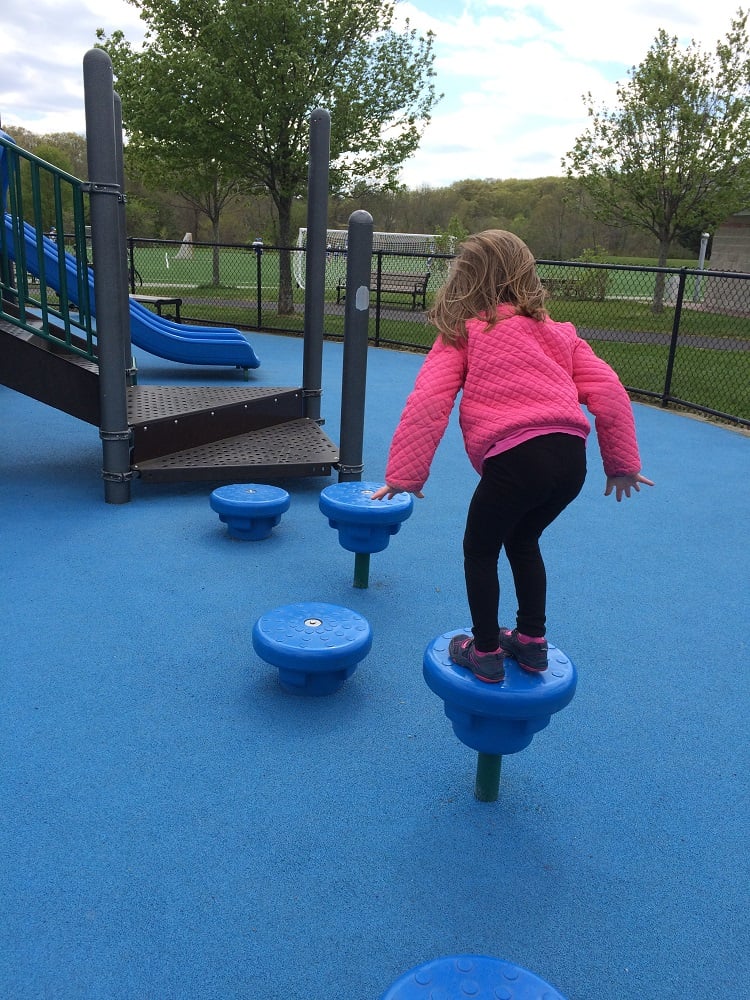 In case that wasn't enough, there are also 2 baby swings and 2 big-kid swings, as well as a bouncy balance beam. My daughter loved both walking across it and bouncing on it. She was really happy that there was a lacrosse game on the adjacent field - she watched the team warming up for their game while bouncing on the balance beam!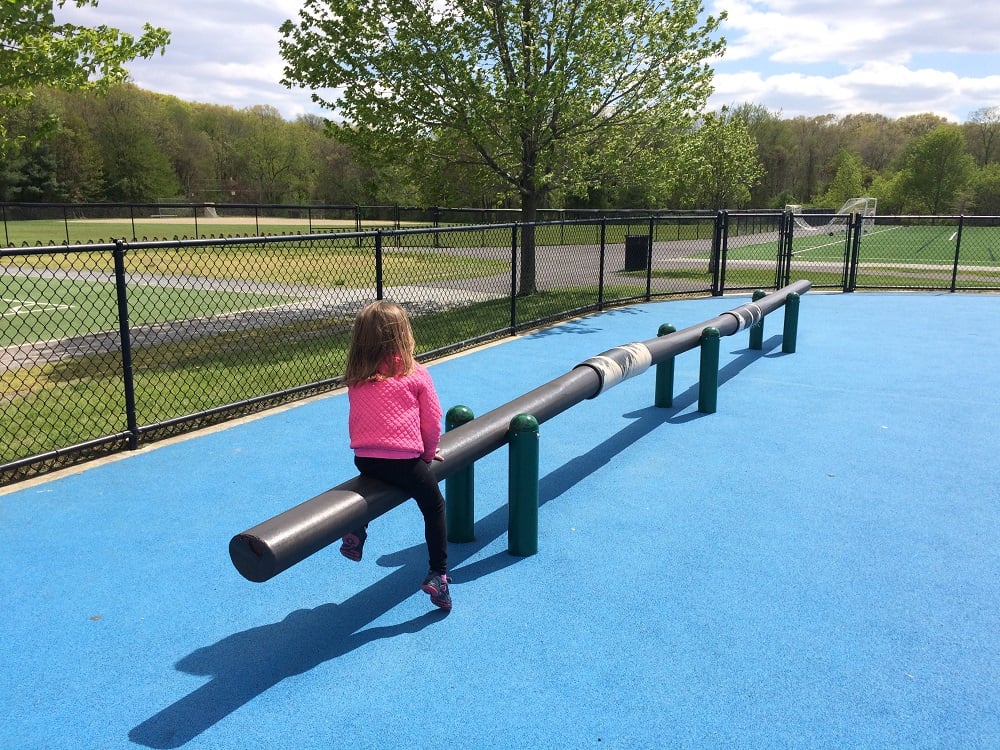 The surface of the playground is blue rubber, so it's very padded but also reflects sunlight on very sunny days. Unfortunately there is no real shade here; it's definitely not a good place to visit on a hot, cloudless day in August. Our most recent visit was on a moderate, slightly windy day and it was perfect! In fact, an ice cream truck came while we were there, but the driver left quickly once he saw that there was no interest.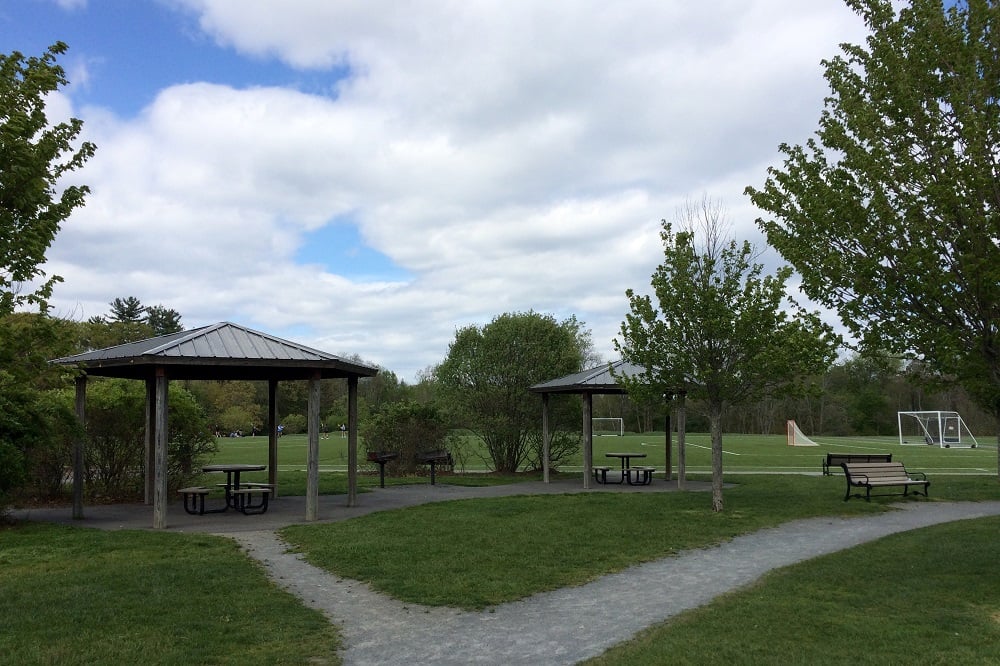 Outside of the main play area, there are several covered pavilions with circular picnic tables, grills and trash cans. One of the best features (in my opinion) of this park is that there are REAL bathrooms! We didn't use them this time; on a previous visit there, my kids discovered that there is an echo in the bathroom and had a lot of fun seeing who could be the loudest. Luckily no one else was using it at the time!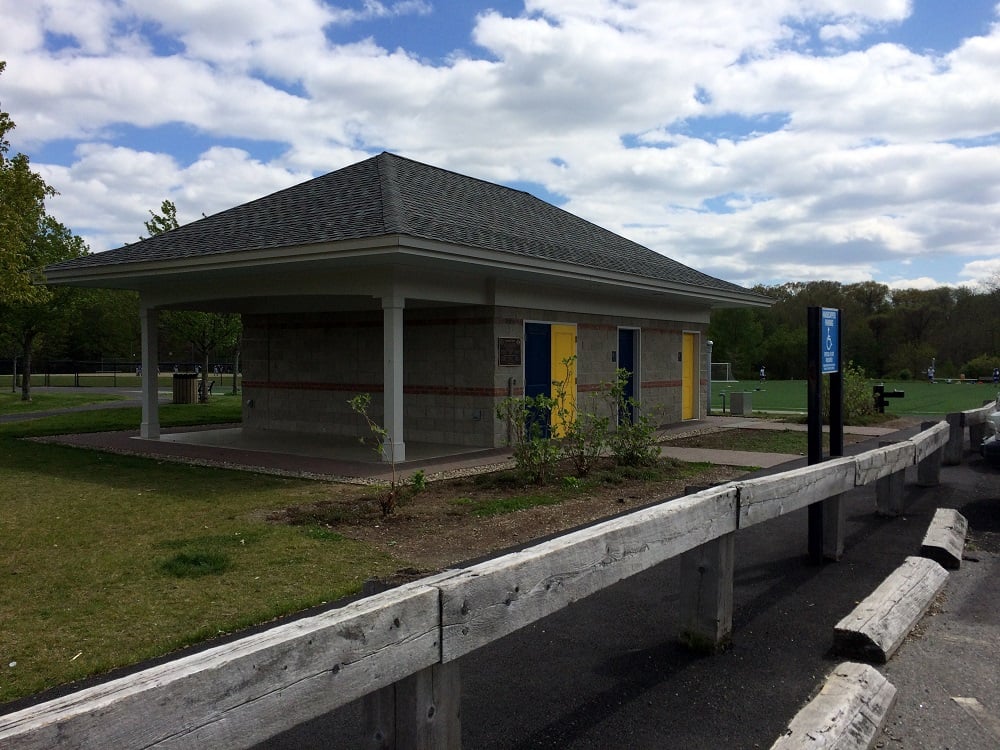 This park is easily accessible (exit 30A from Route 128 South) and was not crowded at all when we were there. In addition to lots of parking spaces, there is also a bike rack available. We'll definitely go back again!
Macaroni Kid Acton-Concord-Bedford-Lexington is a free weekly newsletter and website focused on fun events and information for local families.
We gather together all kinds of local family events and activities each week, and add useful information about classes, family-focused businesses, book and product reviews, recipes, crafts, school and camp guides and more.
Subscribe today to receive our email newsletter every Thursday!