Please evaluate your family's health carefully before visiting a local playground, and please use hand sanitizer and follow all mask and social distancing requirements.
Thank you to reader Shari Bartholomew for submitting this review of NARA Park in Acton! If you would like to submit a paid review of a local playground, please email barbarae@macaronikid.com for advance approval and guidelines.
NARA Park (officially Nathaniel Allen Recreation Area)
25 Ledge Rock Way, Acton, MA
http://www.acton-ma.gov/312/NARA-Park
Date/Time Visited: Sunday, July 24, 2016 at 11 AM
Bathrooms: Yes
Parking: Yes
Shade: Limited
Benches/Tables: Both
Additional Features: Beach, Picnic Areas, Snack Bar, Boat Rentals, Amphitheater, Sports Fields, Walking trail
My husband and I wanted to take our kids to the beach to celebrate his birthday but didn't want to deal with the traffic and parking at any of the coastal beaches. A friend suggested we check out NARA Park since her family has a membership there this summer; I'm so glad that we did as we had a wonderful day!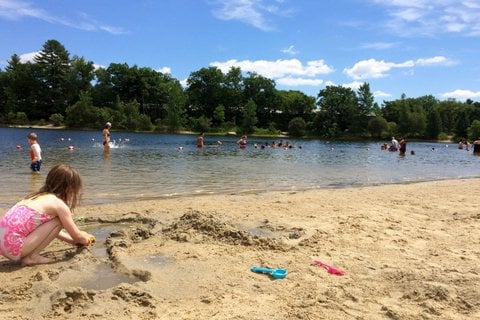 Nathaniel Allen Recreation Area (usually called NARA Park) is open to both residents and non-residents of Acton from Memorial Day through late August. Both seasonal memberships and one-day passes are available. I would definitely consider getting a membership ($200 for residents/$250 for non-residents) if you will be headed here frequently. At $32 for a non-resident single day pass (for up to a family of 6 people), it can add up quickly! (Please note - this fee only applies to the beach portion of the park. Anyone can use the playground and the rest of the park for free.)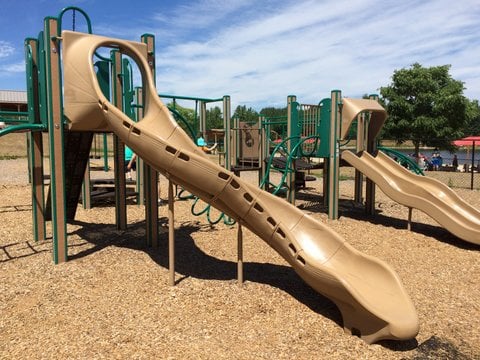 We arrived at 11 AM, expecting to find a crowded parking lot and beach but were pleasantly surprised that it was not all that busy. The crowds picked up as the day went on but we had no trouble finding a spot underneath one of the beach's new built-in shade tents. The wooden chairs under our tent were already claimed by another family, but we had more than enough room to spread out our blanket and belongings.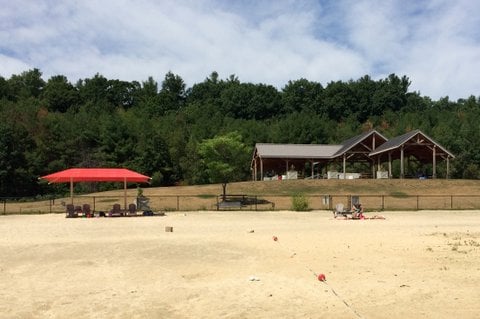 The water was calm, a very pleasant temperature, and shallow in most of the swimming area. There is an expansive beach with plenty of area for playing, and a lifeguard is on duty while the beach is open (9 AM to 8 PM daily from the end of June through the end of August; hours are different at other times). We didn't do this while we were there, but both paddleboats and canoes are also available to rent for $5 per boat for 30 minutes.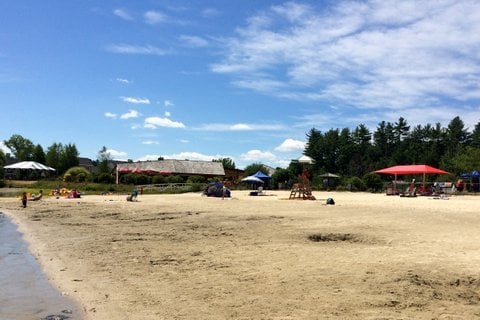 After spending several hours on the beach, we decided to check out the playground. It's quite large, fully fenced-in, and features many different activities, but it was also very hot and in direct sunlight. My kids were not interested in spending much time there so on our next visit, we might plan to head to the playground earlier in the day. Covered in mulch, the play area has three big slides and two small slides as well as two big kid swings, a baby swing, a handicapped swing and a tire swing. Monkey bars, a zip line, a climbing wall and several climbing structures round out the playground.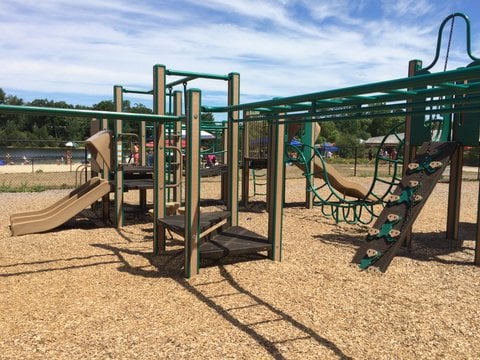 There are also several bouncers - my son had a lot of fun playing on one shaped like a motorcycle. If you would prefer to be in the shade while your kids are playing, there is a shade pavilion in this area as well.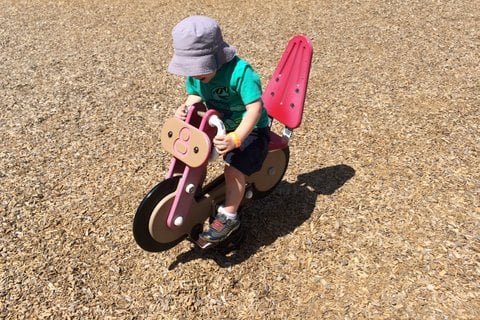 NARA Park also has several large pavilions that are available to rent and offers a variety of different summer events and concerts at their 3,000 seat amphitheatre. There are a few beach volleyball courts at the park and a full concession stand with both indoor and outdoor seating. There are also bathrooms and showers near the concession stand. On our visit, the bathroom could definitely have used a cleaning but I still appreciated having it available to us as we used it several times.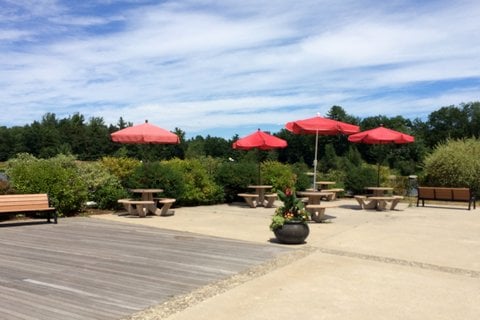 If your older kids love to play the addicting and energetic game of gaga, there is a large permanent gaga pit next to the playground. Round up a group and bring them over to NARA Park for an hour or two of play.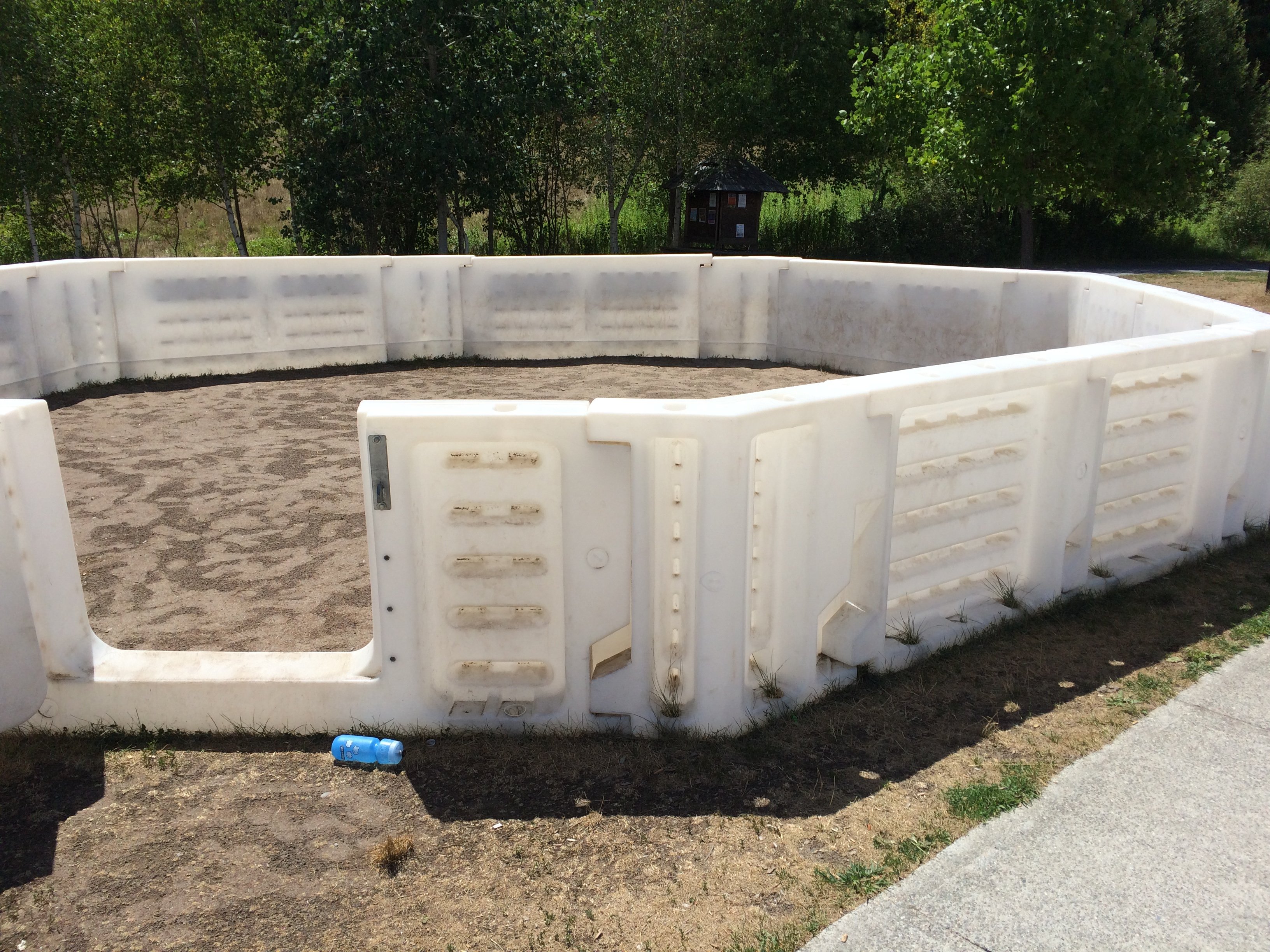 Also important to note is that the Bruce Freeman Rail Trail (BRFT) runs along Route 27 very close to NARA Park. The BFRT begins on the Lowell/Chelmsford line and will eventually reach to Framingham.
Macaroni Kid Acton-Concord-Bedford-Lexington is a free weekly newsletter and website focused on fun events and information for local families.
We gather together all kinds of local family events and activities each week, and add useful information about classes, family-focused businesses, book and product reviews, recipes, crafts, school and camp guides and more.
Subscribe today to receive our email newsletter every Thursday!