Please evaluate your family's health carefully before visiting a local playground, and please use hand sanitizer and follow all mask and social distancing requirements.
Bedford Center Playground
7 Mudge Way, Bedford MA (next to Bedford Public Library)
Date/Time Visited: Wednesday, August 1, 2018 @ 1 PM
Bathrooms: none; restrooms are available at the library across Mudge Way or in the Town Center buildings during open hours. Porta-potties next to athletic field.
Parking: Ample
Shade: Plenty of shade on the structure and the benches
Benches/Tables:There are a couple of picnic tables right next to the playground outside of the fence.
Additional Features: Baseball field, library, book sharing box
Bedford Town Center Playground has long been one of our favorite playgrounds in the area because of its central location, its proximity to the library and everything a kid might need: fields to run around in, paths to bike on, picnic tables to eat lunch at and even an ice cream store nearby.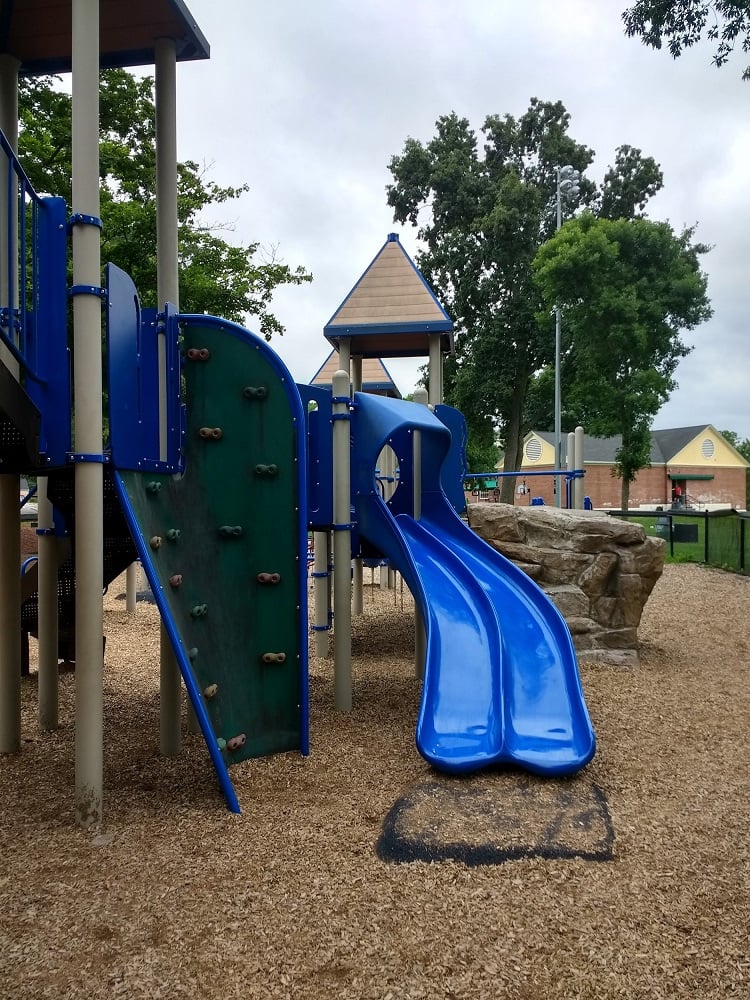 Location: The playground is located in downtown Bedford, behind the Police Station and next to Bedford Public Library and Bedford High School.
Enclosure / Ground Cover: The playground is fenced in with two gates; benches are on the outside of the fence. The ground cover is wood chips and mulch.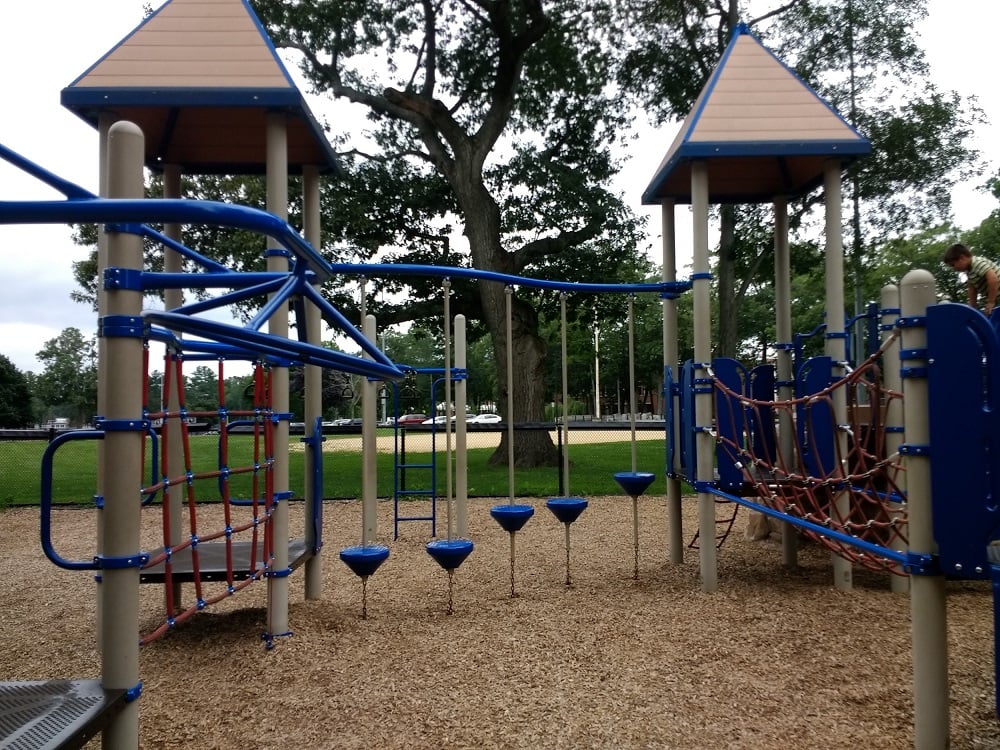 Structure / Components: There are two separate structures for toddlers (2 - 5 years old) and older kids (5+).
This giant slide has been my boys' favorite for years with the rope course now taking the lead.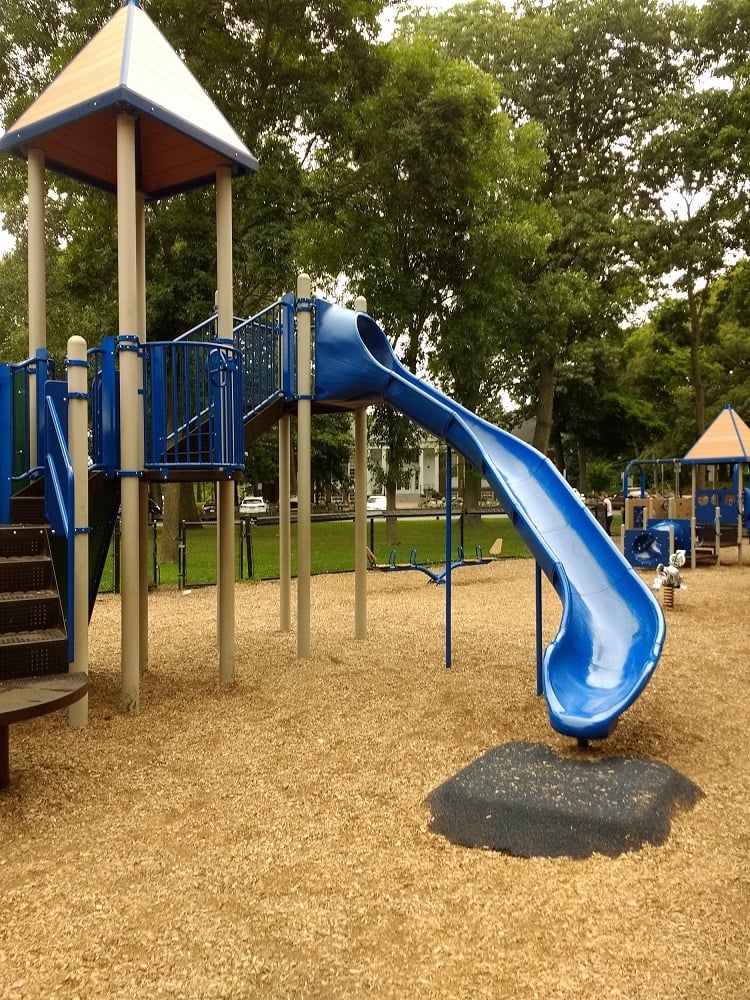 Some of our other favorite playground components are the rock ledge, the rope wall, the overhead wheel and the overhead mesh tunnel. The rock ledge is not as great for climbing as for announcing Simba's birth to the world.
The multiple level platforms in the toddler section are a great place for infants to work out transitions between steps, and give parents peace of mind as they are very low to the ground and rather wide. There's also a short tilted tunnel which is great for sliding practice.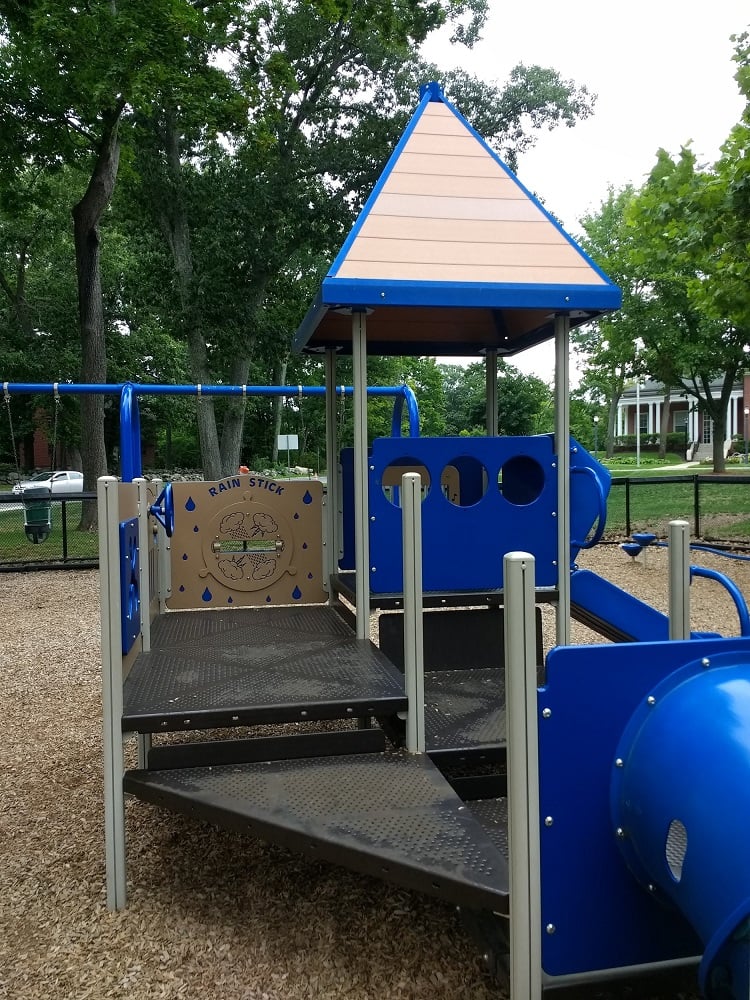 We love the musical chimes and the balance beam too. The balance beam is so simple yet provides tons of entertainment at any age, from banging on the drum-like pods, to cruising along the beam, to unsteadily walking on it, to making it part of an obstacle course to race through.
There are two swing sets on the opposite ends of the playground. The one next to the younger kids section has 4 bucket seats. The other one has three traditional belt swings and one adaptive seat. This worked out for us, as my 4 year old managed to squeeze into a bucket seat next to my 1 year old, while the 7 year old swung independently on the other side of the playground. However, be prepared to engage in distracting tactics if one of your kids needs to be pushed on a belt swing and the other requires a bucket seat.
There is an active baseball field adjacent to the playground past the trees which provide nice shade. The field is close enough for parents to be able to watch a game and a child at the playground at the same time. Additionally, the trees and the field provide ample opportunities for squirrel chasing and bird watching.
The picnic tables are right outside the fence, and there are several garbage cans nearby, including a couple of Solar Trash Compactors. We enjoyed checking out the Little Free Library box right next to the picnic tables as well. Restrooms are available at the library and the Town Center during open hours; there are also two porta-potties next to the athletic track & field.
There are terrific paved paths all around the playground and along the fields. With a bike, a scooter and a stroller, it was a fun and easy hike, as the path from the playground to the library and along the high school is straight with a very clear view and minor hills. We biked/scootered/strolled down to the high school athletic fields, where the kids continued to wear themselves out running the track. Light drizzle began to turn into rain which pushed us toward the Bedford Public Library, which is another amazing place to spend the day.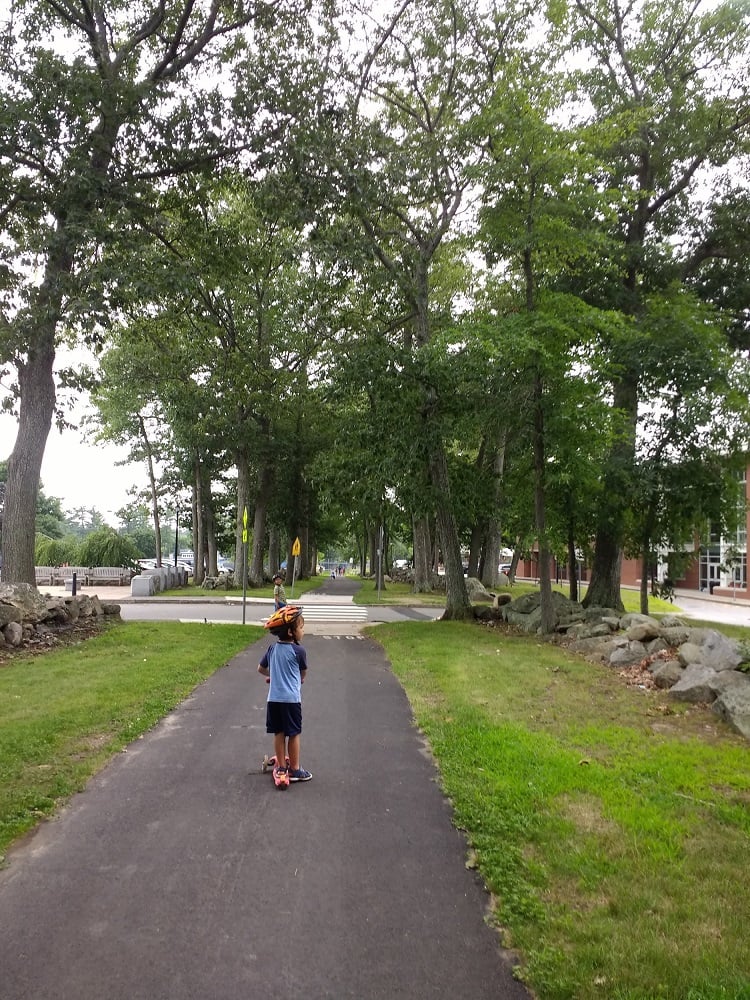 Don't Miss:
On a nice day, take a 10 minute walk to Bedford Farms Ice Cream (18 North Rd). There is a sidewalk the whole way from the playground to the ice cream place, although crossing North Rd/Rt 4 may be tricky.
If you feel up for a slightly longer walk, head towards South Road and turn right. About a 15 minute walk will bring you to Depot Park, where you can take a look at the Boston & Maine Railroad Passenger Car. From here, you can either get onto the Minuteman Bikeway or head back up towards Great Rd via the Narrow Gauge Rail Trail, which makes for a beautiful and easy walk or bike ride on a paved road.
Natallia Lyman lives in Westford with her husband and three children. She is an Independent Consultant with Usborne Books & More (http://spacehedgehog.com/), a traveler and a daydreamer. She loves to explore new places, meet new people and hear their stories.
Macaroni Kid Acton-Concord-Bedford-Lexington is a free weekly newsletter and website focused on fun events and information for local families.
We gather together all kinds of local family events and activities each week, and add useful information about classes, family-focused businesses, book and product reviews, recipes, crafts, school and camp guides and more.
Subscribe today to receive our email newsletter every Thursday!