Please evaluate your family's health carefully before visiting a local playground, and please use hand sanitizer and follow all mask and social distancing requirements.
Emerson Field and Playground at the Hunt Recreation Center
90 Stow Street
Concord MA 01742
Date/Time Visited: Saturday, June 15, 2019 at 10:45a.m. and multiple times on weekday and weekend afternoons year-round.
Bathrooms: Full restrooms, including accessible stalls, located inside the Hunt Recreation Center (open daily).
Parking: A shared lot on Stow Street that accommodates approximately 24 cars. Free, ample parking located along Stow Street.
Shade: Full sun in the morning, partial to full shade later in the afternoon. Mature growth trees with benches and picnic tables located beneath help provide shade during the sunniest times of day.
Benches/Tables: Four picnic tables and five benches located directly at the sandbox area; three benches lining the playground itself; two benches at splash pad; multiple picnic tables at the edge of the basketball courts.
Additional Features: Seasonal splash pad; seasonal public pool access (call 978-287-1000 for fees and availability); tennis courts; basketball courts; ball field; track; partial walking path; and a free 30 SPF sunscreen dispenser located at the entrance to Hunt Recreation Center.
Located on the outskirts of Concord Center, Emerson Playground is accessible by the Fitchburg line of the MBTA commuter rail and situated close enough to a Starbucks, Dunkin' Donuts, Bedford Farms Ice Cream and a couple of pizza/sandwich shops so that you can grab some last-minute provisions before heading down to the park.
When we arrived, we were greeted by a lovely installation from the Kindness Rocks Project in front of the Hunt Recreation Center. My son was instantly captivated by the glossy painted rocks with their upbeat, positive messages. It was a beautiful way to begin (and end!) our visit!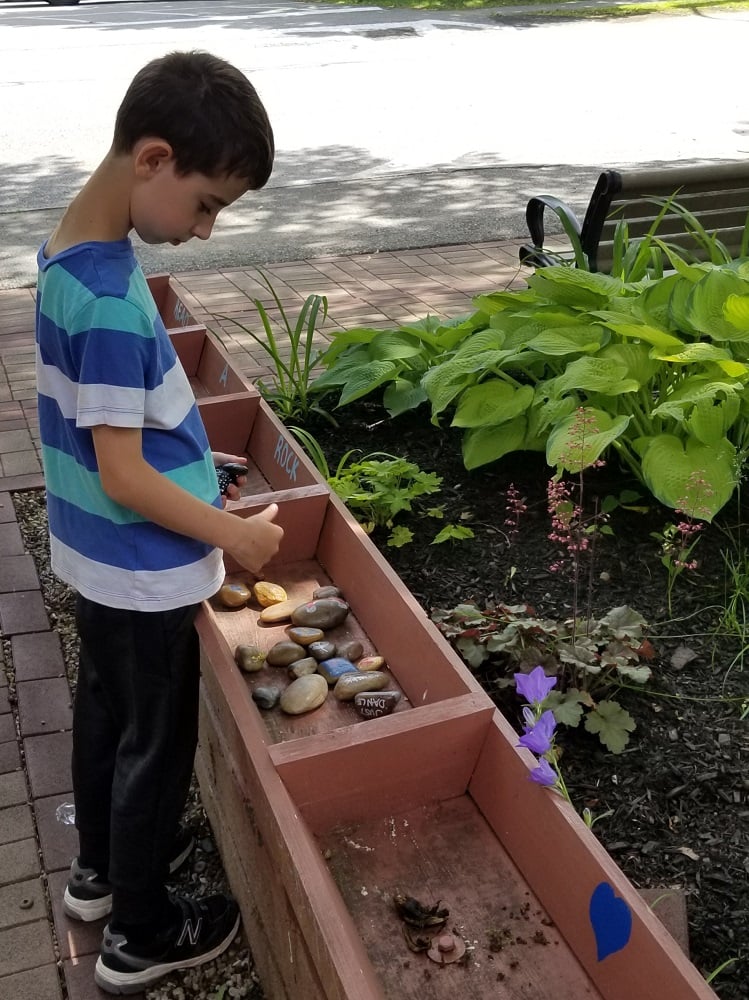 Designed for both toddlers and older children, Emerson Playground does seem to lean more toward 5 to 12-year-olds. There are five varieties of slides here: three winders, one toddler, and one roller-slide plus swings for all ages and abilities, including one accessible swing (without a locking feature), two infant/toddler bucket swings, and three standard swings.
There are also multiple climbing structures, such as realistic boulders, a climbing net, a climbing wall and ladders; balancing steps; and even a mini-zip line that was a hit with my son!
For children ages 2-5, the ramps, steps, lookout towers, and small slide are good enough, though most are more interested in the large sandbox that is happily shaded by a large oak tree.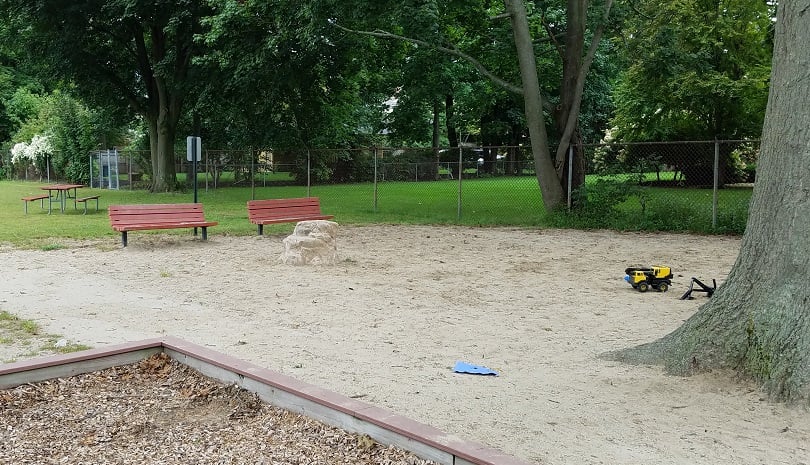 Thoughtfully placed benches and picnic tables mean you can stay right where your infant or toddler is playing while you all stay cool. You'll find your typical trucks, shovels and pails here, too, with the addition of a larger-than-life-turtle that little ones will love climbing on.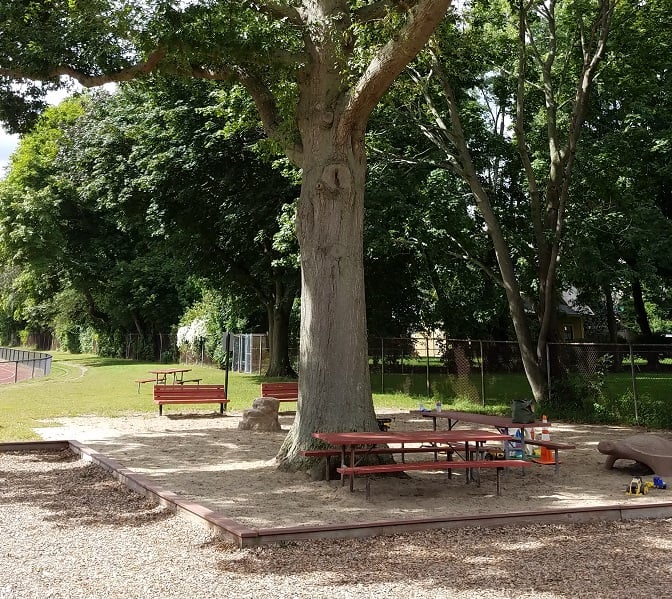 Emerson Playground is part of American Forests' Global ReLeaf™ Program, which aims to reduce the carbon footprint made by large manufacturing companies through tree planting restoration projects. The ground here is cushioned with bark mulch, with the exception of an impact-absorbing rubber path leading from the concrete walkway entrance to the accessible swing. It is important to note that this is the only area in the playground that a wheelchair can access.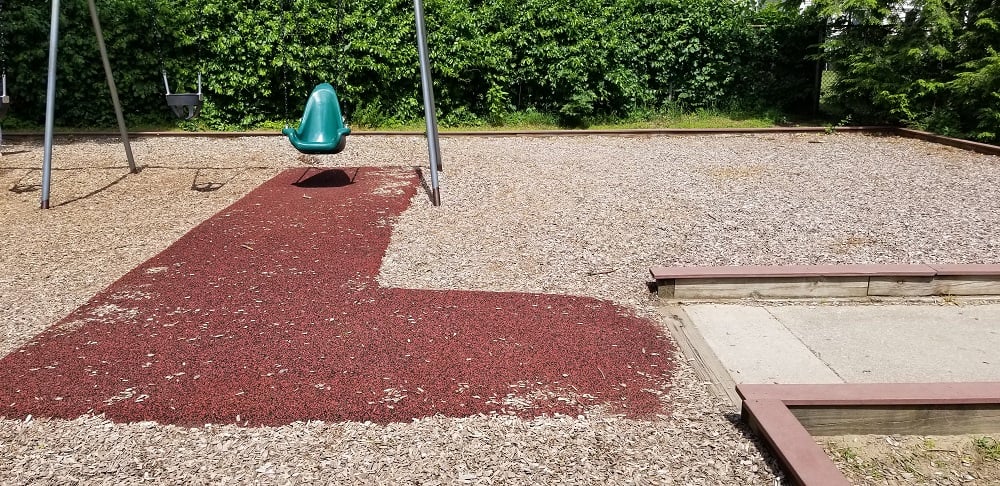 Surrounding the playground are many other recreational areas -- a fenced-in basketball court, supplied with balls; a small splash pad (look for the button to turn it on near the Recreation Center); a fenced-in swimming pool (call 978-287-1000 for information); many fields for running; a walking track and athletic fields. There is plentiful parking in lots across the street from the Recreation Center, further down Stow Street near The Umbrella Community Arts Center, or along Stow Street and the other streets bordering Emerson Field.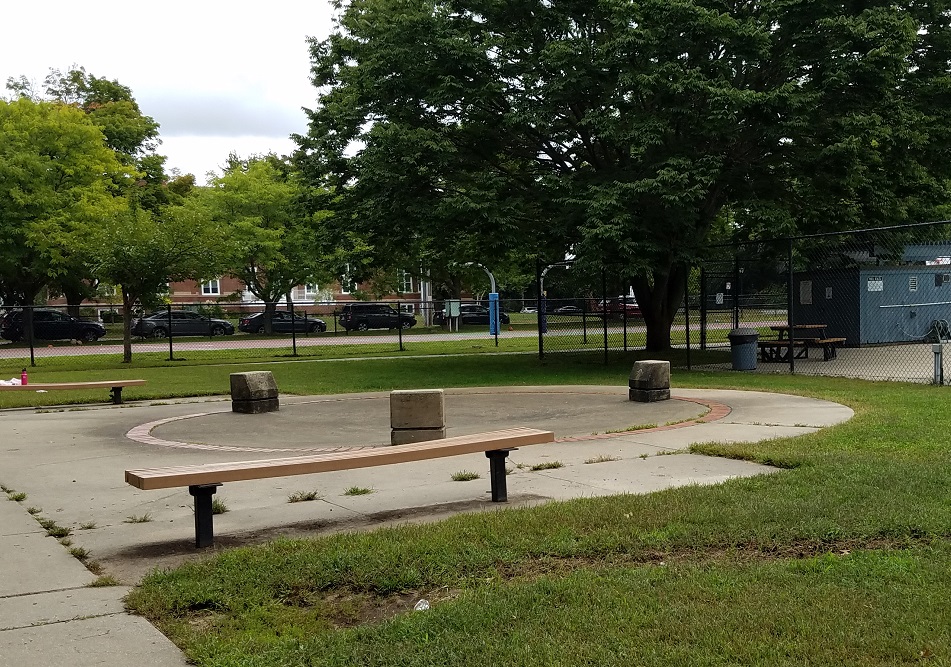 The town hosts many community events at Emerson Field and Playground throughout the year, such as the popular Winter Wonderland, the 4th of July Picnic in the Park, Stow Street Block Party and Touch a Truck, and road races. On any given day, you'll see a tennis match, soccer practice, a basketball game, a birthday party, professional runners, dog walkers, picnickers, and plenty of kids of all ages enjoying this spacious and well-maintained recreation spot in town.
Born and raised in Boston, Kathryn Camgemi now lives in West Concord with her husband and their young son. A writer of both fiction and non-fiction for thirty years, she has been published in Chicken Soup for the Soul and Reader's Digest, among others. She has been secular homeschooling her son with additional needs for four years and strongly believes all children can succeed given the right environment. She writes periodically about their homeschooling journey at http://www.ahomeschooledlife.wordpress.com. You can also find her at her Facebook page, A Homeschooled Life.


Macaroni Kid Acton-Concord-Bedford-Lexington is a free weekly newsletter and website focused on fun events and information for local families.
We gather together all kinds of local family events and activities each week, and add useful information about classes, family-focused businesses, book and product reviews, recipes, crafts, school and camp guides and more.
Subscribe today to receive our email newsletter every Thursday!