Please evaluate your family's health carefully before visiting a local playground, and please use hand sanitizer and follow all mask and social distancing requirements.
This article includes two playgrounds, both located at 120 Meriam Road. The Playscape at Ripley is a nature-focused public playground. Nearby is the new fully accessible playground for children of all abilities, located at the Concord Integrated Preschool. Note that since the accessible playground is a school playground, it is available to the public only during non-school hours.
Playscape at Ripley
120 Meriam Road
Concord, MA
Date/Time Visited: Saturday, June 15, 2019 at 11:15 a.m. and periodic visits over the past four years.
Bathrooms: No public restrooms
Parking: One lot shared by two schools during the week and sports teams in the evenings and on weekends during the school year.
Shade: Partial sun in the morning, full sun later in the morning/afternoon, shade later in the day.
Benches/Tables: Three picnic tables under the seasonal tent; one picnic table beneath a mature-growth tree; one picnic table on the grass near tent; two benches under a mature growth tree along path; ample green space for picnicking.
It's always exciting to come across a playground that changes it up from what most of us know to something refreshingly different. This is the case with the Playscape at Ripley, a nature park bordering hundreds of acres of farm and woodland in the eastern part of Concord. Situated on the same land as the Concord Integrated Preschool and The Concord Children's Center, the Playscape at Ripley is a space that is rich with new and unique play opportunities for children.
Since it was a Saturday and mid-June, the ball fields were busy with the last of the youth soccer games for the season. We were lucky to grab a parking space not far from the Ripley Playscape entrance. As we walked by the sign welcoming us, we left the din of the soccer games behind and entered a peaceful natural wonderland that my son immediately fell in love with.
On our right was a trellis covered in climbing vines and leafy branches that revealed a small entrance with potted pansies and a couple of logs inside. This "secret garden" was cozy and shady; my son spent ample time here playing in the dirt, sitting quietly, and enjoying the idea of being hidden within a larger public space.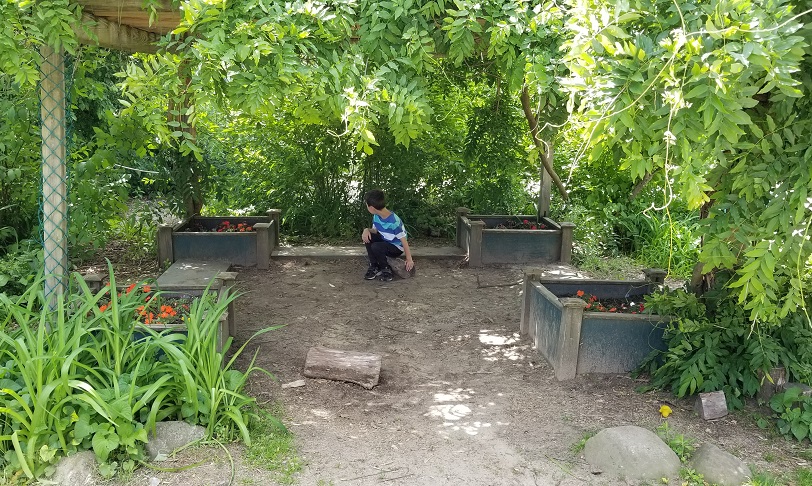 This is the theme at Ripley; nature is blended into an environment designed to stir a child's imagination. A large sandbox anchored by logs, a small wooden bridge, and stones will thrill toddlers and older children alike, but there are no plastic pails or shovels here; instead, children are free to create their own ideas—and they definitely will!
A blue sensory music ball just past the "secret garden" is a chance for kids to make music out in nature.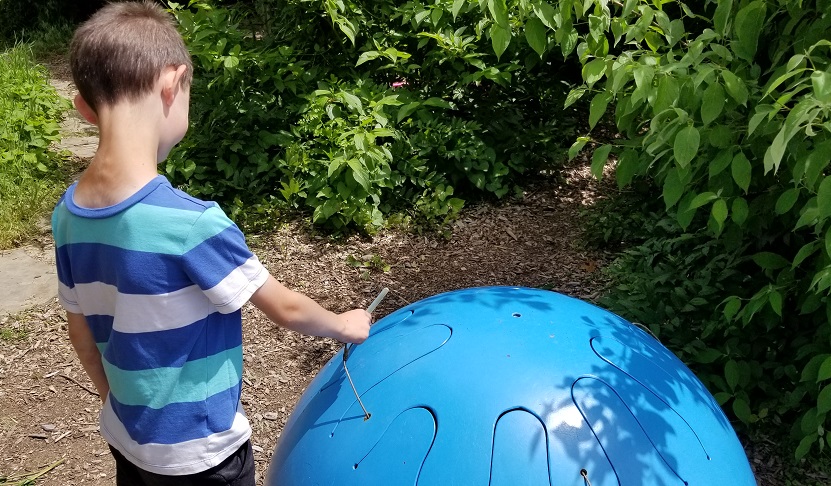 Two unique play structures placed amid bushes and trees are the perfect height of a child, who may choose to decorate them with flower chains or invent an exciting world within them.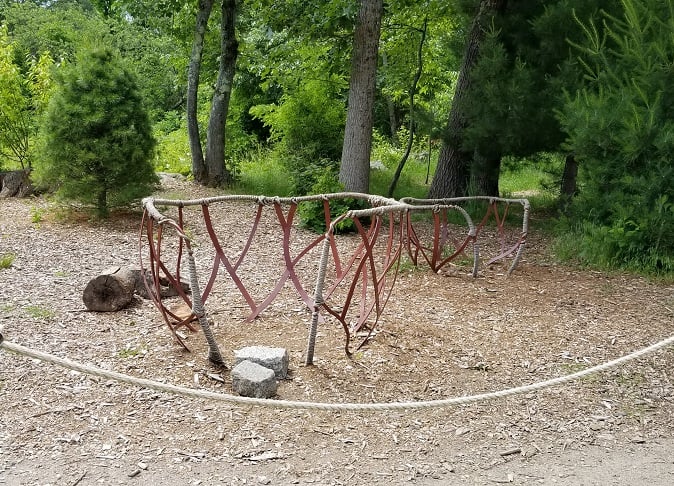 Nearby, horizontal logs and large stepping stones provide ample jumping opportunities, while a gently sloping hillside with two slides built into it will entice both kids AND adults; with gorgeous wildflowers on either side, these are easily the two prettiest slides we'd ever seen! We loved the mint with its delicate purple blossoms, but bees did, too. It's important to note that if you or your children are allergic to bees, you should scope out the slides first for safety.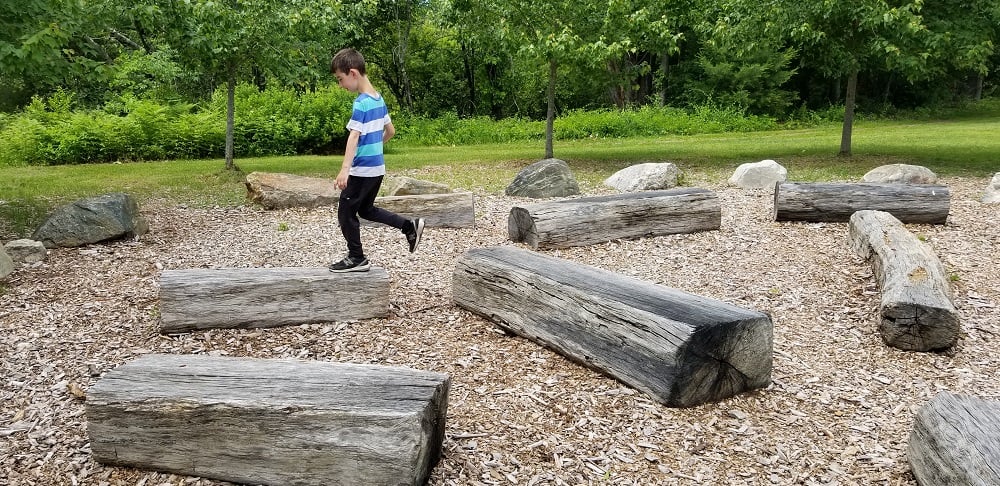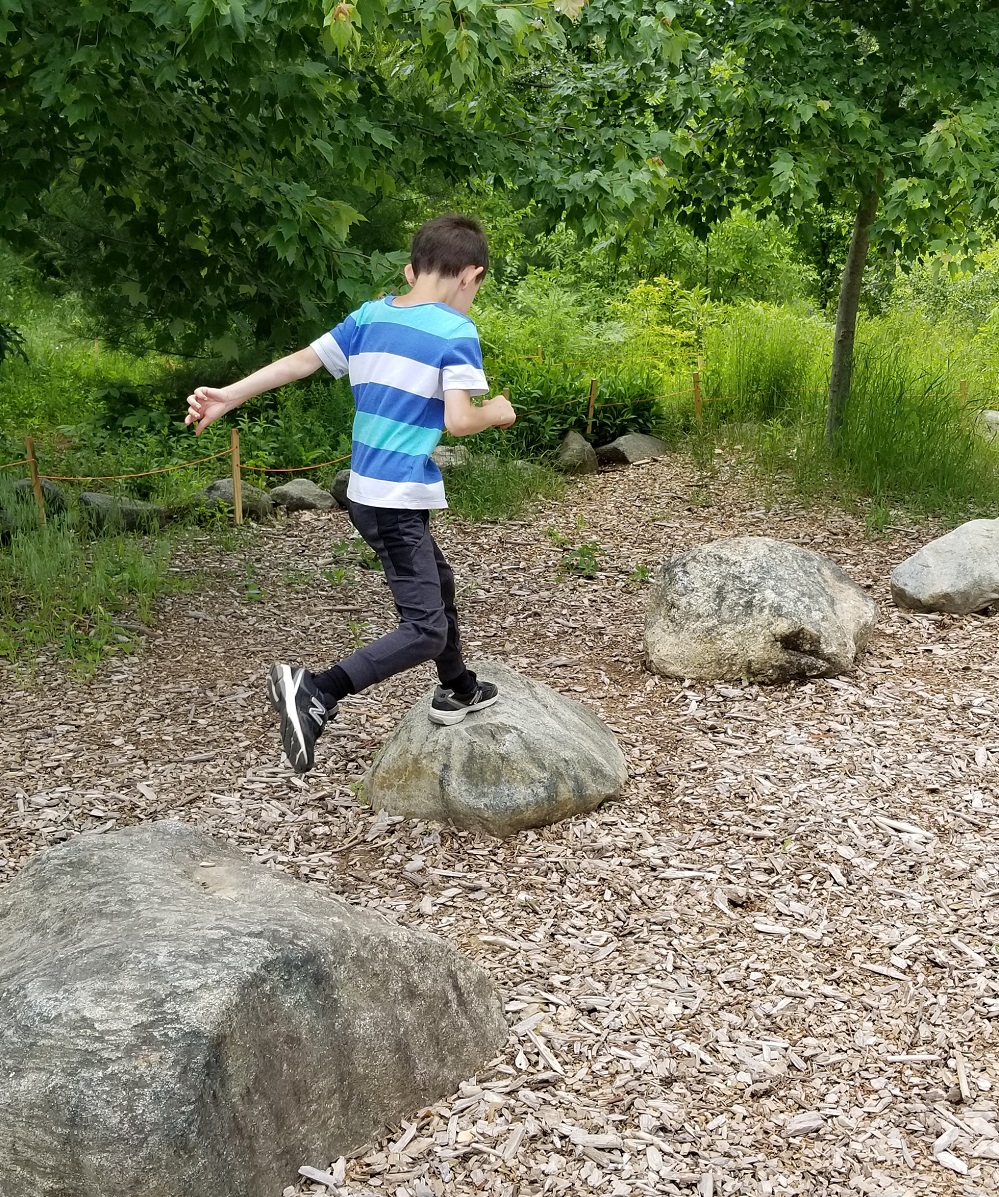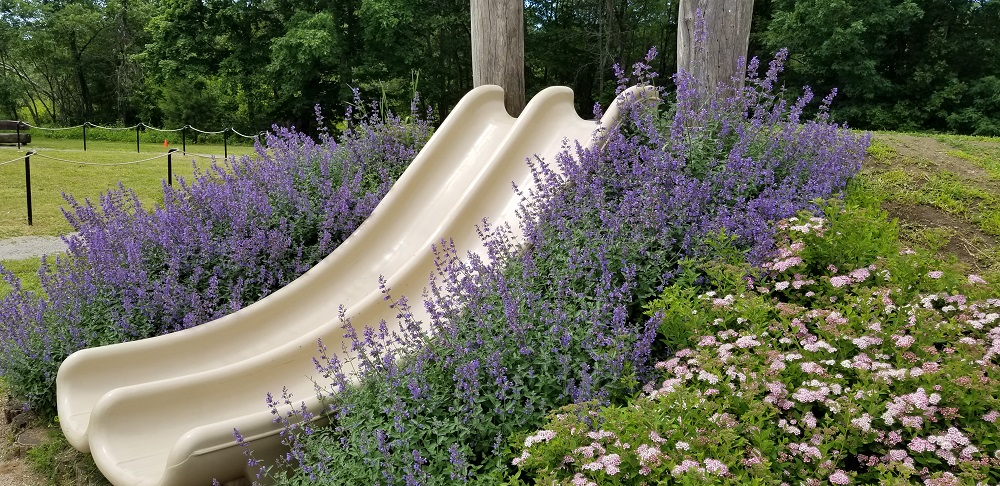 There is a traditional play structure at Ripley that has one winder slide and a toddler slide. Kids can climb to the top using ladders or a winding pole, or simply choose to use the steps. The ground varies throughout the playscape, alternating between sand-covered paths; grass; mulch in both the traditional play structure and the swing set areas (with four standard swings); and impact-absorbing turf beneath the group swing and a sit-on Roundabout.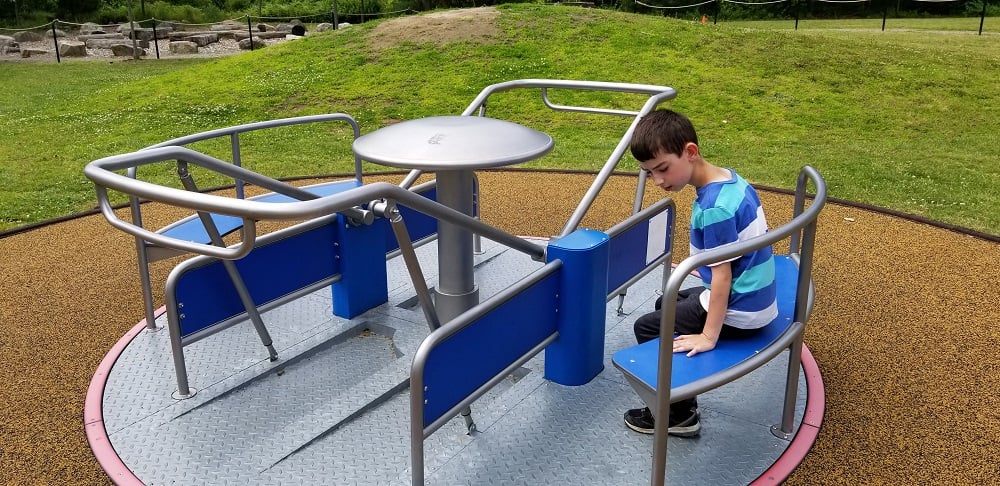 Mature-growth trees line the playscape and provide some much-needed coverage from the sun. There is one picnic table beneath a tree in the center of the playscape, three additional picnic tables beneath a large seasonal tent, and one more picnic table along the perimeter. Benches made from fallen logs dot the playscape and invite you to sit and relax in a space that is hardly ever crowded. My son was asking to go back as soon as we left; it had been a long time since we last visited, and so I made a mental note to return again very soon.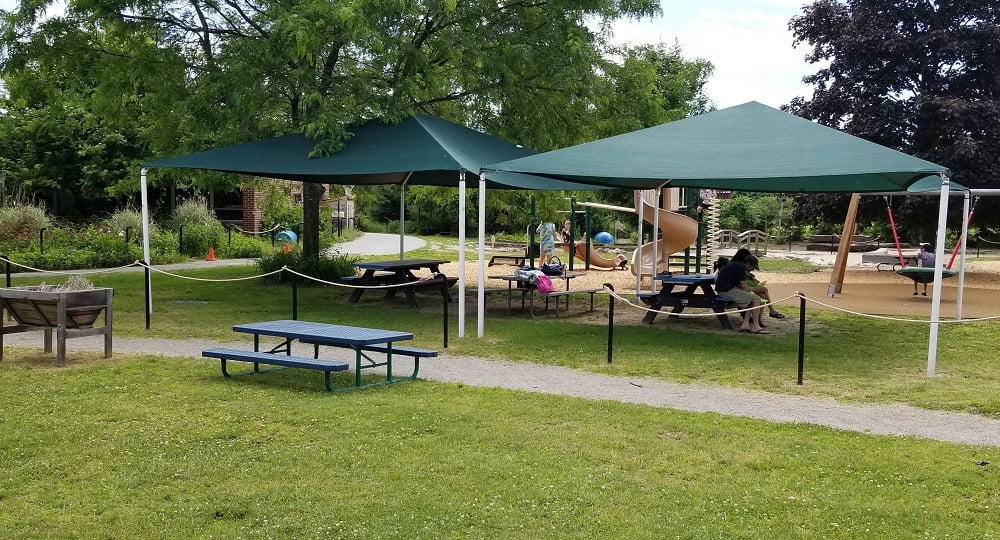 Concord Integrated Preschool's Fully Accessible Playground
120 Meriam Road
Concord, MA
Date/Time Visited: Saturday, June 15, 2019 at 12:00p.m.
Bathrooms: No public restrooms
Parking: One lot shared by two schools during the week and sports teams in the evenings and on weekends during the school year.
Shade: Full sun. No sun protection here, so don't forget the sunscreen and water!
Benches/Tables: Two accessible benches; no tables; two benches on the other side of the fence.
As we walked back to our car, we noticed the playground in front of the Concord Integrated Preschool had recently been renovated. This fully accessible playground borders the Playscape at Ripley. Although the Playscape is wonderful in many ways, it is not 100% accessible. An after-school, evening or weekend visit to the Concord Integrated Preschool playground will be well worth it for a child who has had to struggle with standard playgrounds in the past.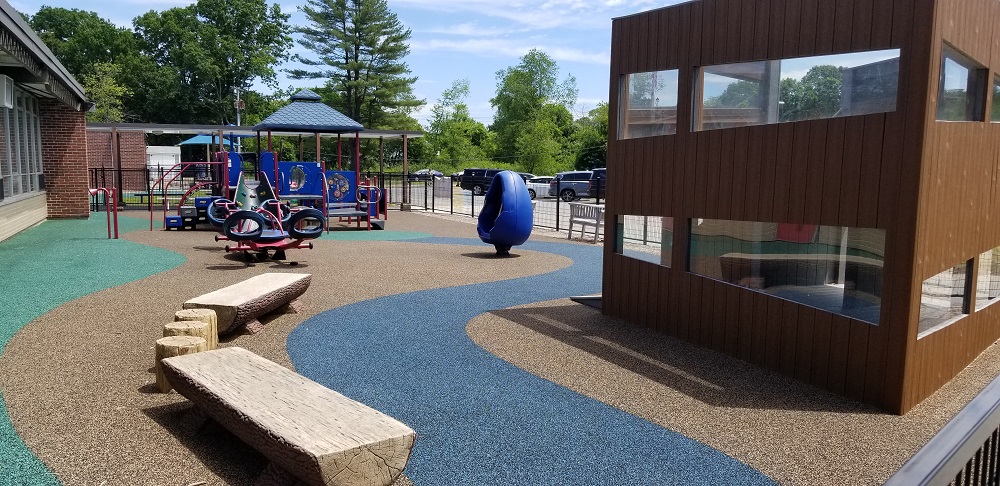 The first thing I noticed upon entering the fully enclosed playground was the impact-absorbing rubber that covers the entire area. The ground is even and flat, which allows wheelchairs to maneuver here with ease; in fact, a child using a wheelchair or leg braces can also move within the accessible play house and play alongside their friends!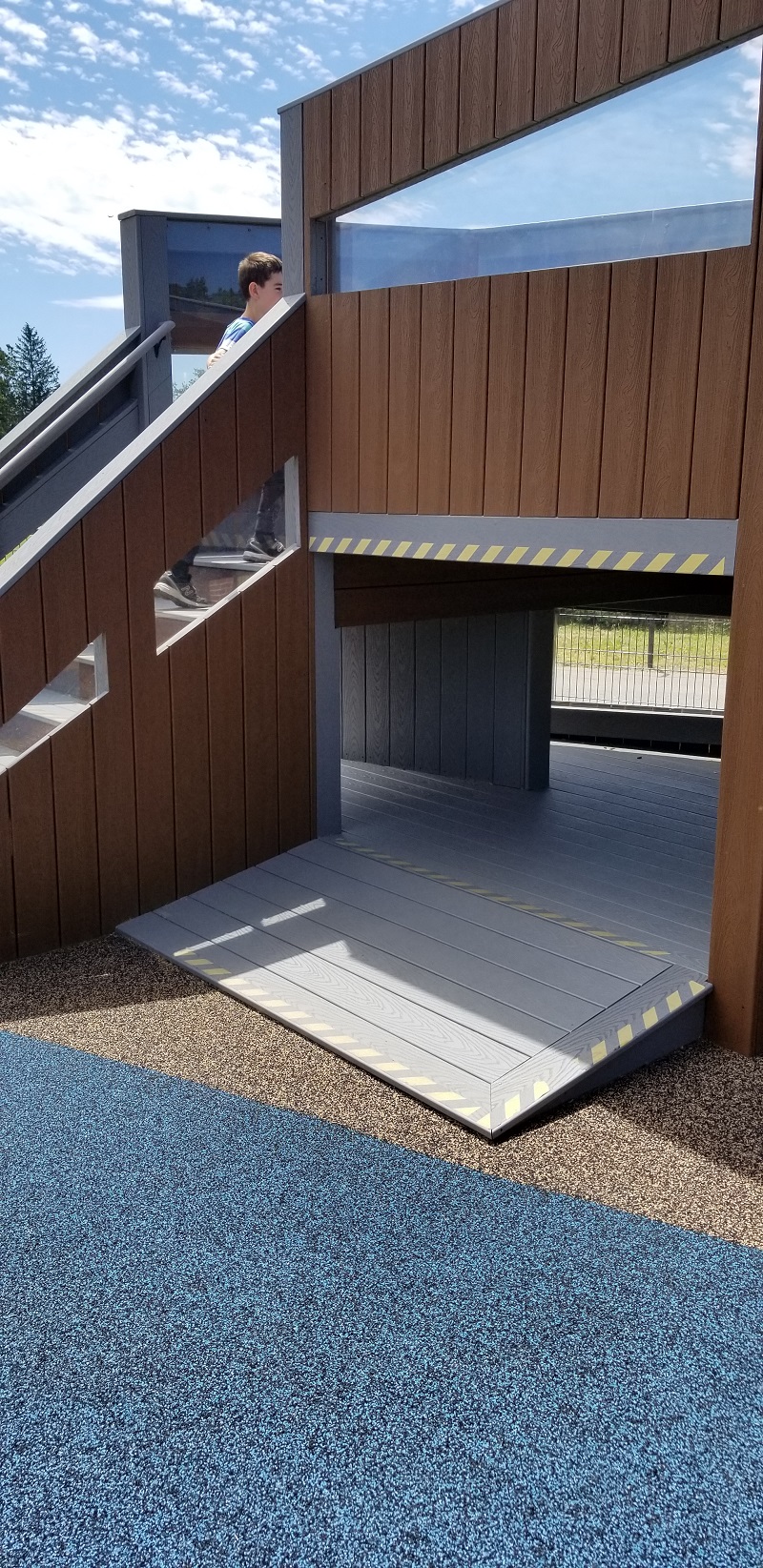 Nearby, an egg-shaped rocking seat is great for the child who may need a break from the stimulation, while the accessible teeter-totter, complete with seatbelts, allows children of all abilities the opportunity to play.
Other features at the fully accessible playground include a roller slide, a climbing tunnel, ladders, a small climbing wall, a kid-size picnic table, a variety of sensory activities like spinning gears and a steering wheel, large flat logs and tree stumps for jumping, and two benches that can enable the transfer of a child from a wheelchair to the seat.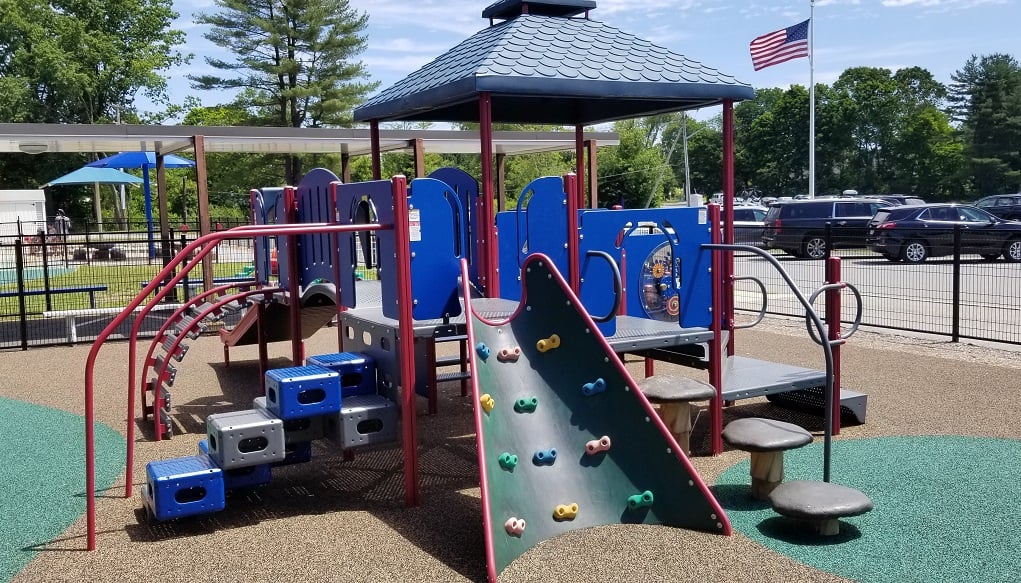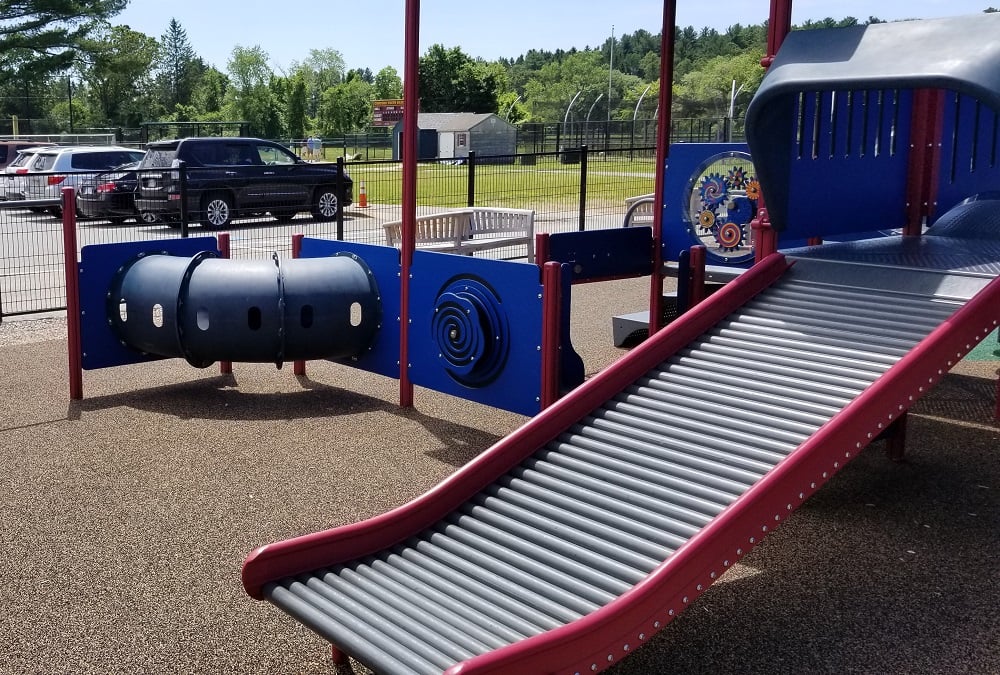 It's easy to spend an entire afternoon exploring these two delightful play spaces in Concord, and with the addition of the fully accessible playground, now all children can play at this one location.
Born and raised in Boston, Kathryn Camgemi now lives in West Concord with her husband and their young son. A writer of both fiction and non-fiction for thirty years, she has been published in Chicken Soup for the Soul and Reader's Digest, among others. She has been secular homeschooling her son with additional needs for four years and strongly believes all children can succeed given the right environment. She writes periodically about their homeschooling journey at http://www.ahomeschooledlife.wordpress.com. You can also find her at her Facebook page, A Homeschooled Life.


Macaroni Kid Acton-Concord-Bedford-Lexington is a free weekly newsletter and website focused on fun events and information for local families.
We gather together all kinds of local family events and activities each week, and add useful information about classes, family-focused businesses, book and product reviews, recipes, crafts, school and camp guides and more.
Subscribe today to receive our email newsletter every Thursday!