Please evaluate your family's health carefully before visiting a local playground, and please use hand sanitizer and follow all mask and social distancing requirements.
Goward Playground
486 Main Street
Acton MA 01720 (located behind Acton Library)
Date/Time Visited: Monday, July 22, 2019 @ 10:30 am
Bathrooms: Inside the library when open
Parking: Ample - Library Parking Lot
Shade: Partial
Benches/Tables: Yes
Additional Features: Located behind the Acton Memorial Library
Goward Playground is located on the property directly behind the Acton Memorial Library. It was renovated and reopened in May of 2014 and is a beautiful, clean space with many relatively new play structures. The play structures are all spaced fairly far apart giving it an open feel even when many children are visiting.
I brought my two-year-old son for a visit on a Monday morning in mid-July. We arrived at 10:30 am and the playground was fairly busy, as is often the case for playgrounds in mid-morning. The Acton Memorial Library and the playground share the same parking lot, and while the lot is very large, there were few spots available. Luckily, we were able to find a spot adjacent to the playground without too much trouble. We stayed at the playground until about 11:30 am, and while there were many children playing when we arrived, most families had left by 11:15 am.
On the day we visited, the weather was around 80 degrees and partially sunny. The playground is surrounded on the back and side by a thick tree line, and there are a few established trees on the property as well. While not entirely shady there were places to play and sit out of the sun, which is always a nice feature to find at a playground.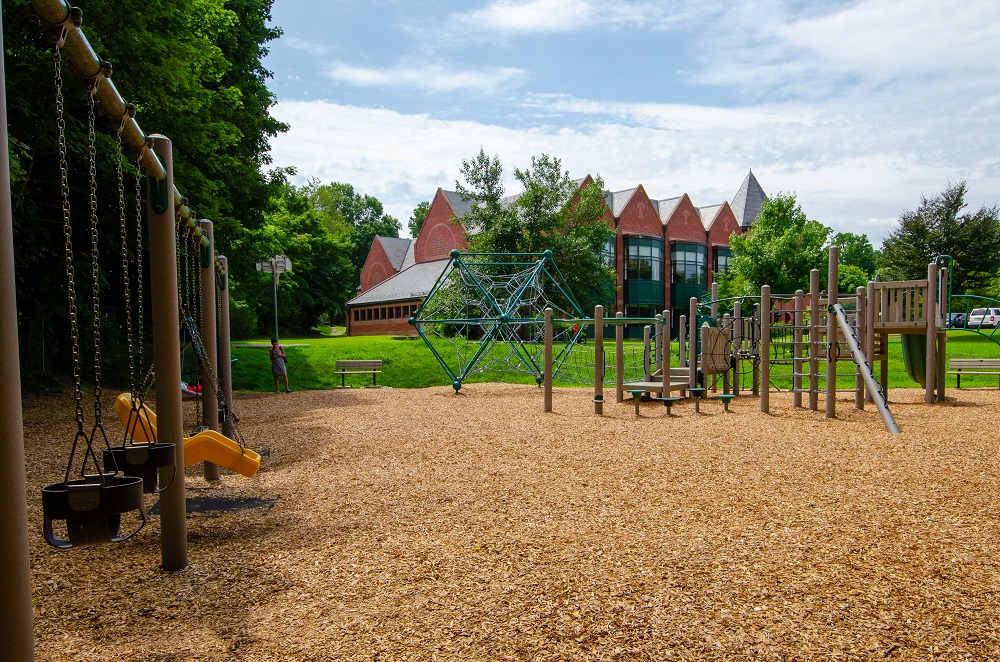 The playground is surrounded on the back and side by trees and a chain-link fence, while the other two sides are open to the parking lot and a grassy area. When bringing my two-year-old to playgrounds I typically look for playgrounds that are fully-enclosed, so I was nervous when we first arrived. However, this playground is designed so that the toddler play areas and swings are near the fences and the play structures for older kids are on the open sides. Given the way this playground is designed, I did not have any trouble keeping my little one safely within the playground limits.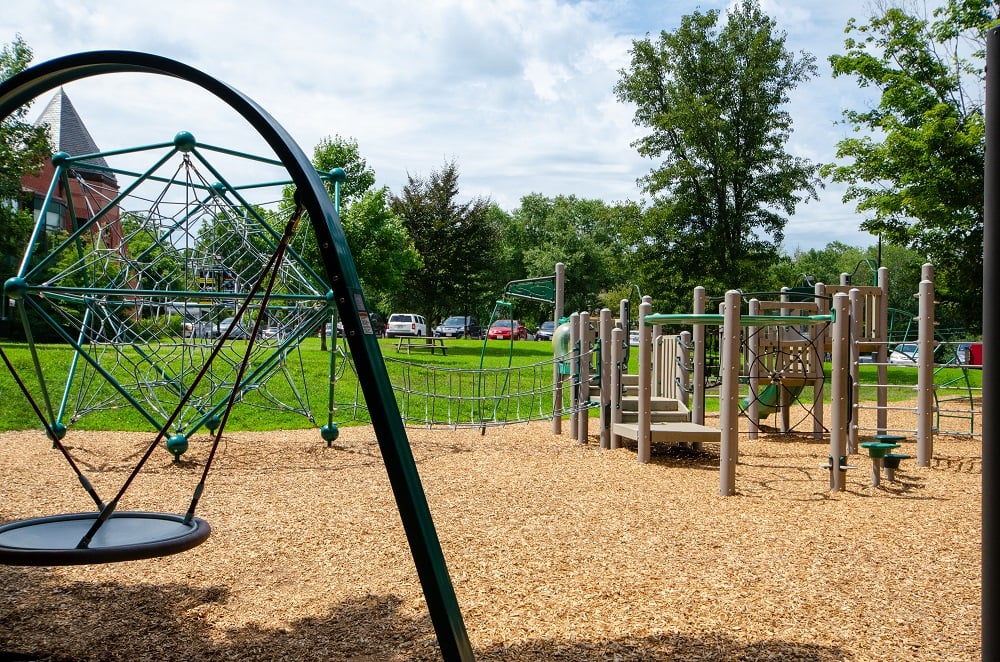 Goward Playground is designed for both older and younger children. For younger kids, there is a toddler-friendly play structure (including two slides, a tunnel slide, and a climbing incline), a playhouse, a sandbox, a train for climbing and pretend play, a seesaw, two bouncy structures to sit on, two baby swings, and an accessible swing. For older children, there is a large climbing structure that incorporates a variety of rope-climbing options, a saucer swing, and three traditional swings.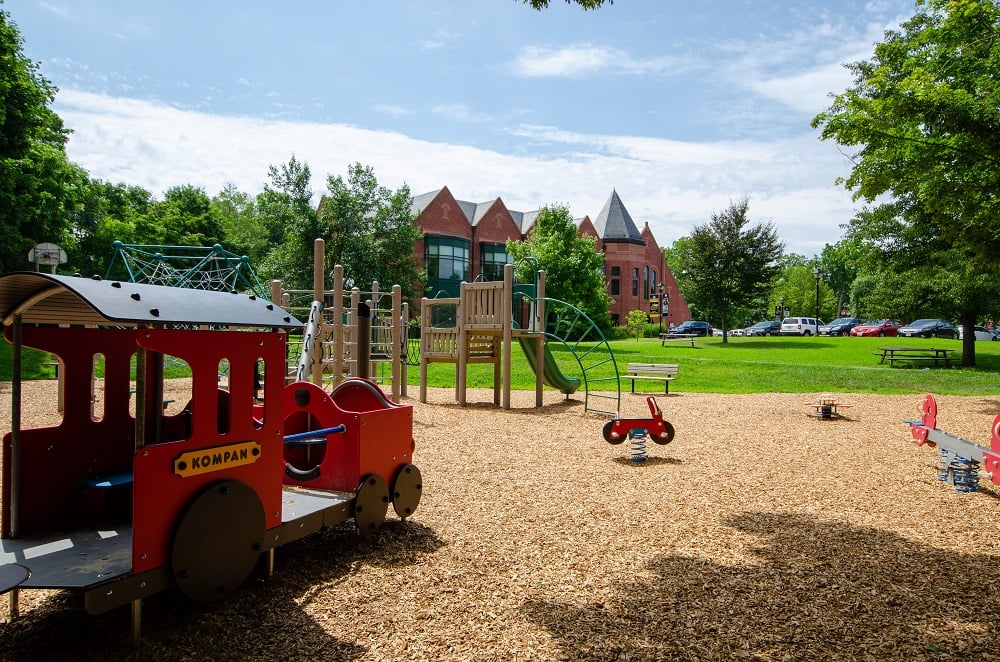 The playground is surrounded by four benches (two in the shade and two in the sun) for parents and guardians to enjoy while supervising play time. A unique feature of this playground is a shaded patio area right next to the playground that holds four new-looking picnic tables and a water fountain. Additionally, there are two older-looking picnic tables on the grassy area next to the playground.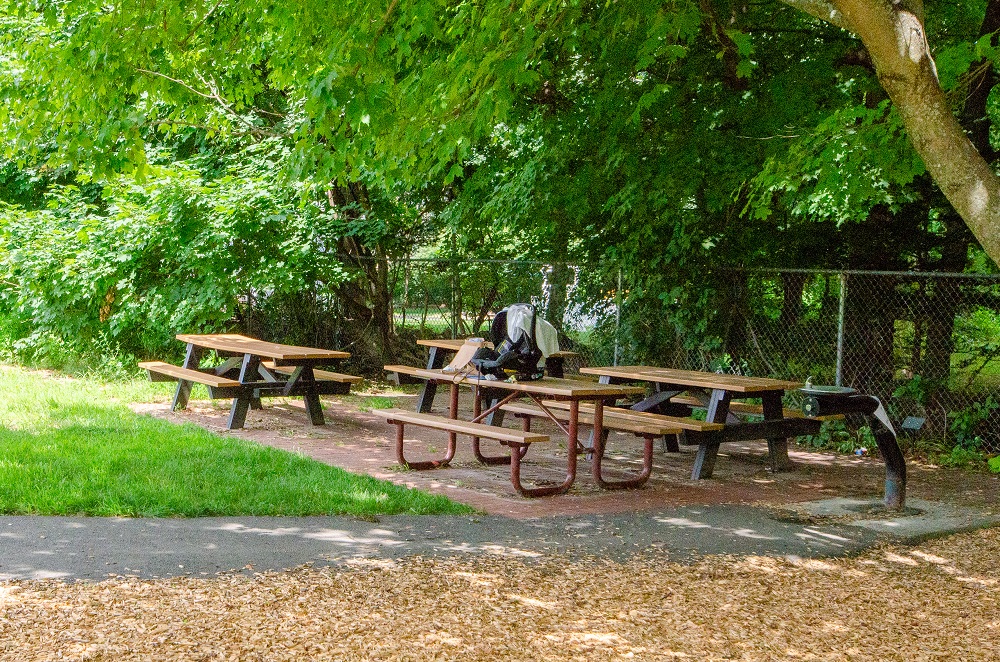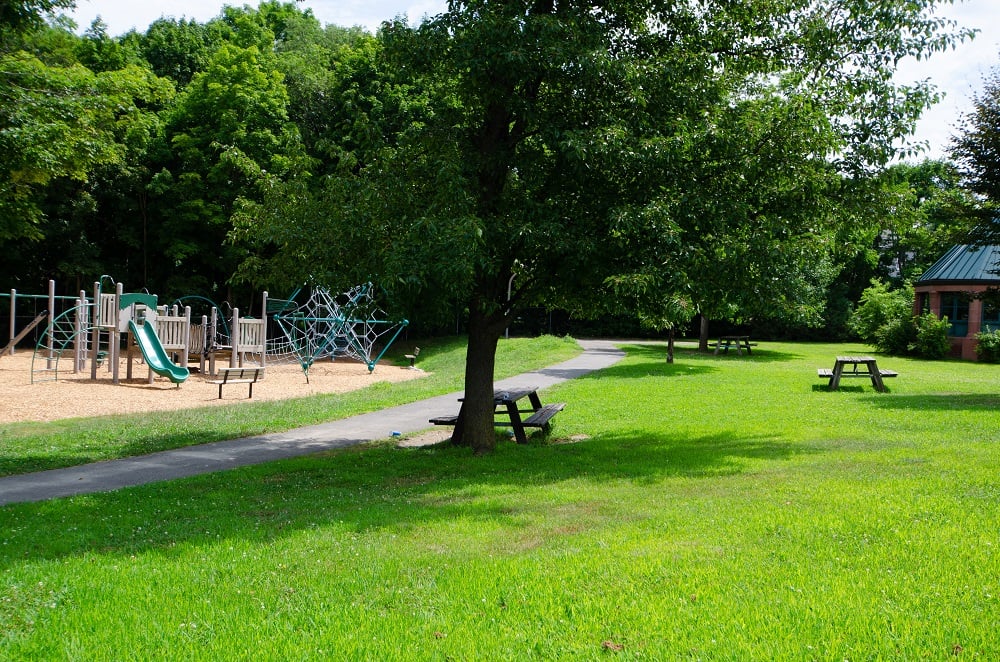 While Goward Playground is worth a visit just for the playground itself, having access to the Acton Memorial Library is a very nice feature. The children's area is directly to the left when entering through the back door closest to the playground. Bathrooms are available inside the library during open hours, and the bathroom in the children's area has a changing table and step stool for hand-washing. Eating is not allowed inside the children's area, however there is an area for eating directly outside the children's room with four or five small round tables and chairs. Having access to both the playground and the library in one outing is a very attractive feature and one that would lead me to visit this playground again, even though it is further from home than other playgrounds.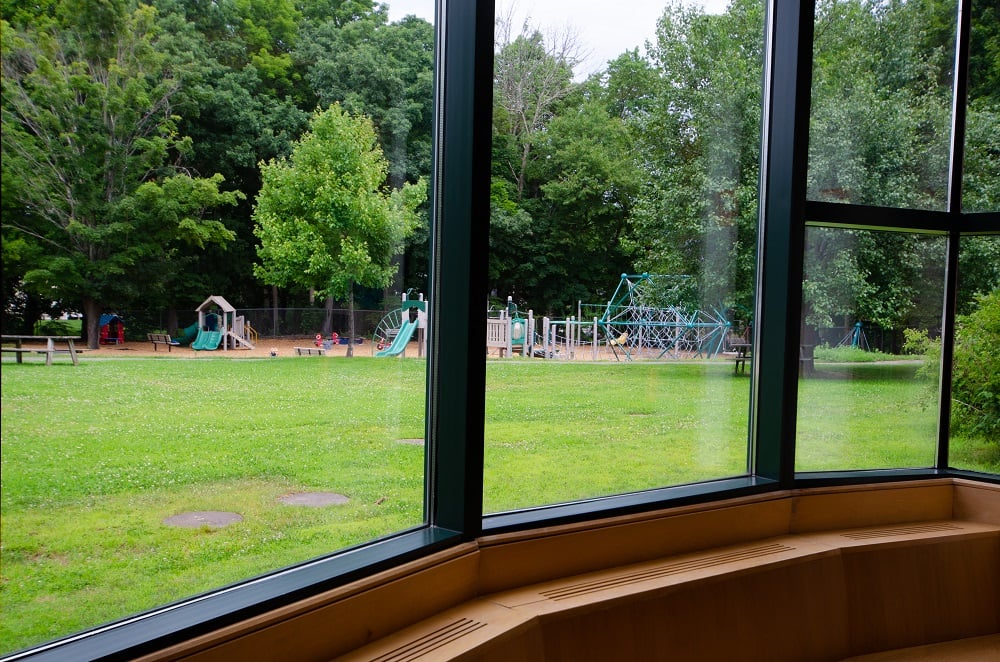 Erika Murphy lives in Westford with her husband and two-year-old son, and she is expecting another baby boy in late August. She is employed as an independent college admissions counselor helping high school students with the college application process. When not busy seeking out new activities and outings for her family, she enjoys taking dance classes and photography.
Macaroni Kid Acton-Concord-Bedford-Lexington is a free weekly newsletter and website focused on fun events and information for local families.
We gather together all kinds of local family events and activities each week, and add useful information about classes, family-focused businesses, book and product reviews, recipes, crafts, school and camp guides and more.
Subscribe today to receive our email newsletter every Thursday!