Don't forget to enter our Hot Wheels Drive-Thru Giveaway!
My family visited the Hot Wheels Ultimate Drive-Thru at Gillette Stadium on Saturday March 20, and the weather was perfect for having the windows down for this drive-through. This was our first experience with a drive-thru event, and we weren't too sure on what to expect. We arrived at 4 PM and there were no lines; we were able to pull right into the ticket booth area where an attendant scans your ticket and hands you a QR code for audio instructions. We immediately loaded the audio in the car, so the kids could listen. The audio starts with an introduction about how Hot Wheels were invented and how monster trucks came about. The audio includes narration about some of the featured cars and trucks to look out for. The music in the audio is engaging and upbeat to listen to while you go through the drive-thru, or you could listen to it on the way there to get your kids excited and pumped up. As a bonus, part of the Hot Wheels Ultimate Drive Thru tickets, you get a 3-pack of hot wheels cars right at check in!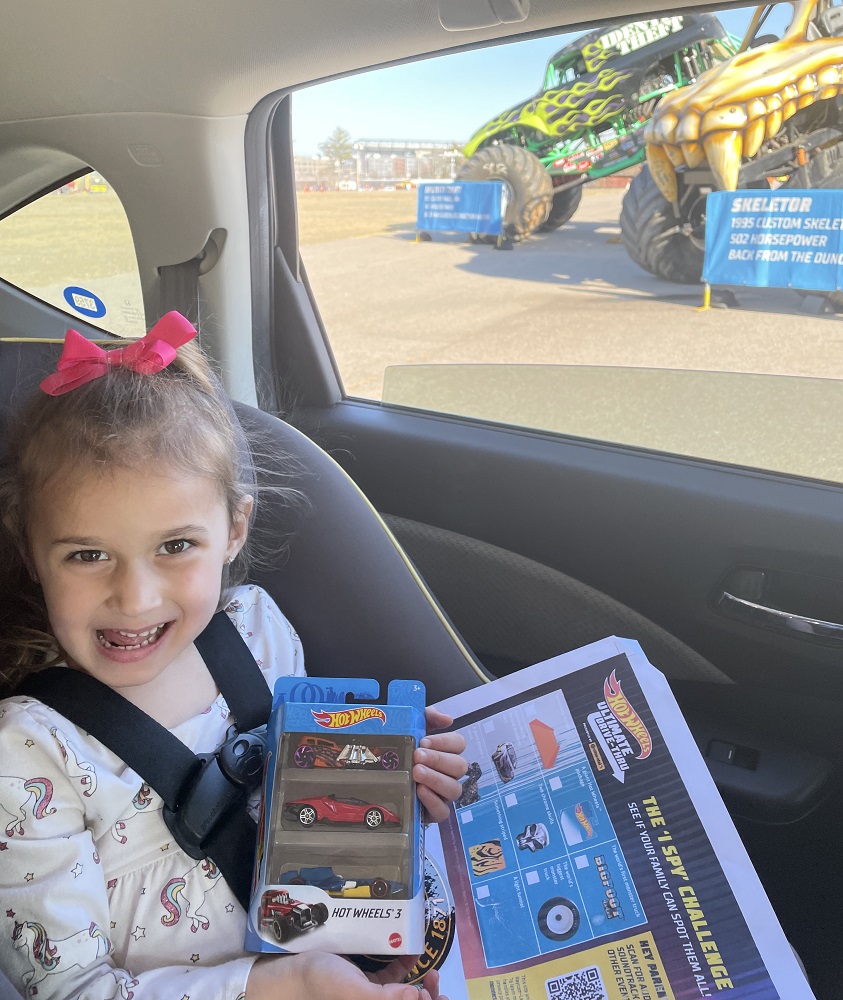 The Drive Thru
The drive thru is set up so that you follow a 1.5-mile gravel path on an empty parking lot viewing various displays of Hot Wheels Monster trucks and cars. There was a steady line of cars in front of us but everyone in front of us was moving along nicely. It took our family roughly 35 minutes from start to finish. The path continues around the parking lot with roped off cones and signage to keep the steady flow going. There are displays of cars and trucks on both the driver and passenger sides.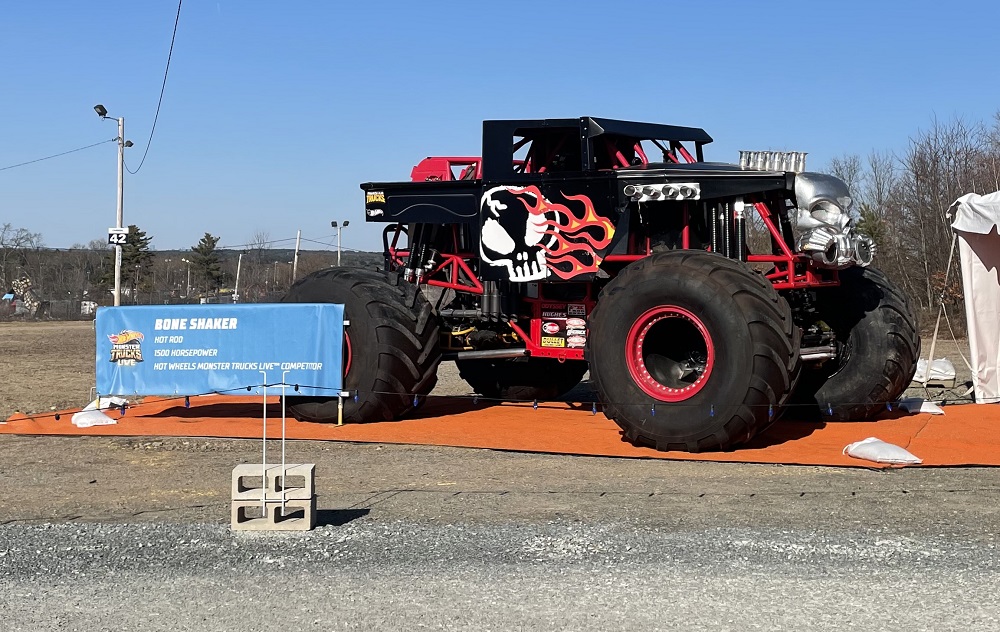 There was event staff scattered along the path of the drive; they were very friendly and encouraged us to take our time and take as many pictures as we wanted. There are porta-potties set up towards the end of the path that you can pull over and use and then join the line again to finish the drive-thru.
The Cars and Trucks
The displays of trucks and cars were pretty cool! There was a wide variety of cars and trucks that my kids really enjoyed. The kids had a great time looking at the cars that were upside down, on their sides or on top of each other.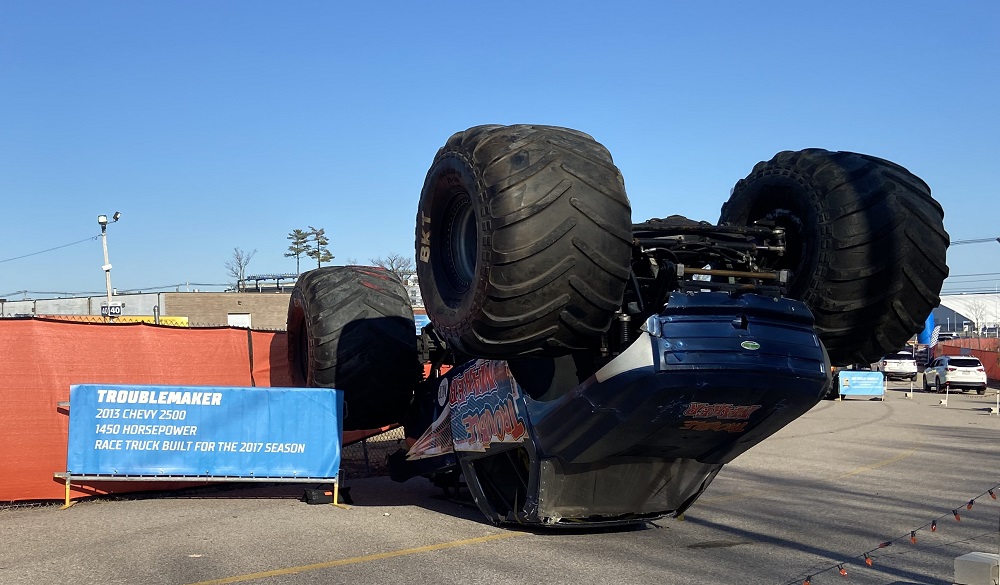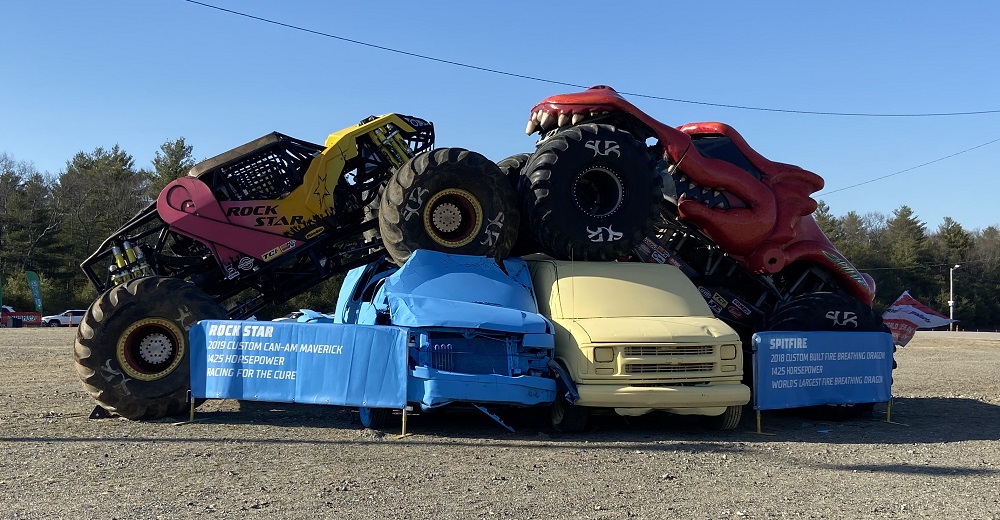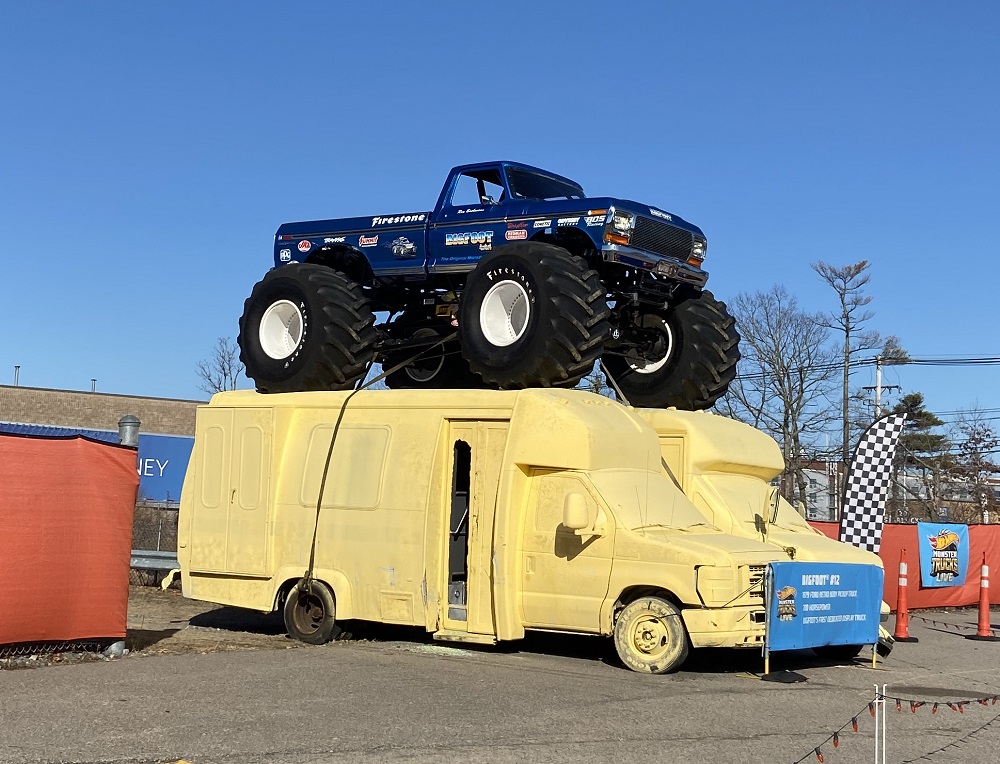 We learned some fun facts along the way from the provided audio. The drive-through starts with Big Foot #1, the original Monster Truck, and also points out Big Foot #5, the biggest monster truck in the world. Be sure to look out for that one!
The drive-thru uses tractor trailers not only to transport and load the monster trucks to the location but they're also used to display the vehicles. Some of the cars have themes such as Star Wars, different animals, the beach, school bus and specialty cars.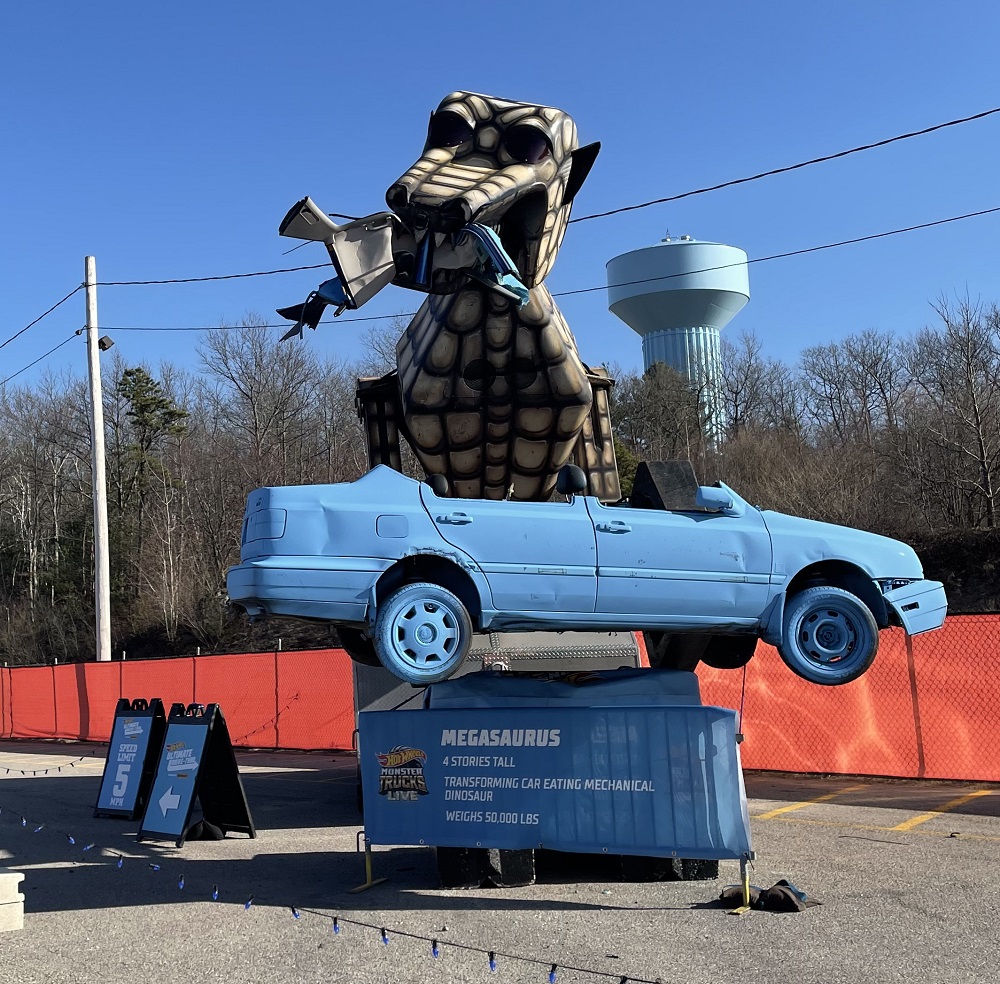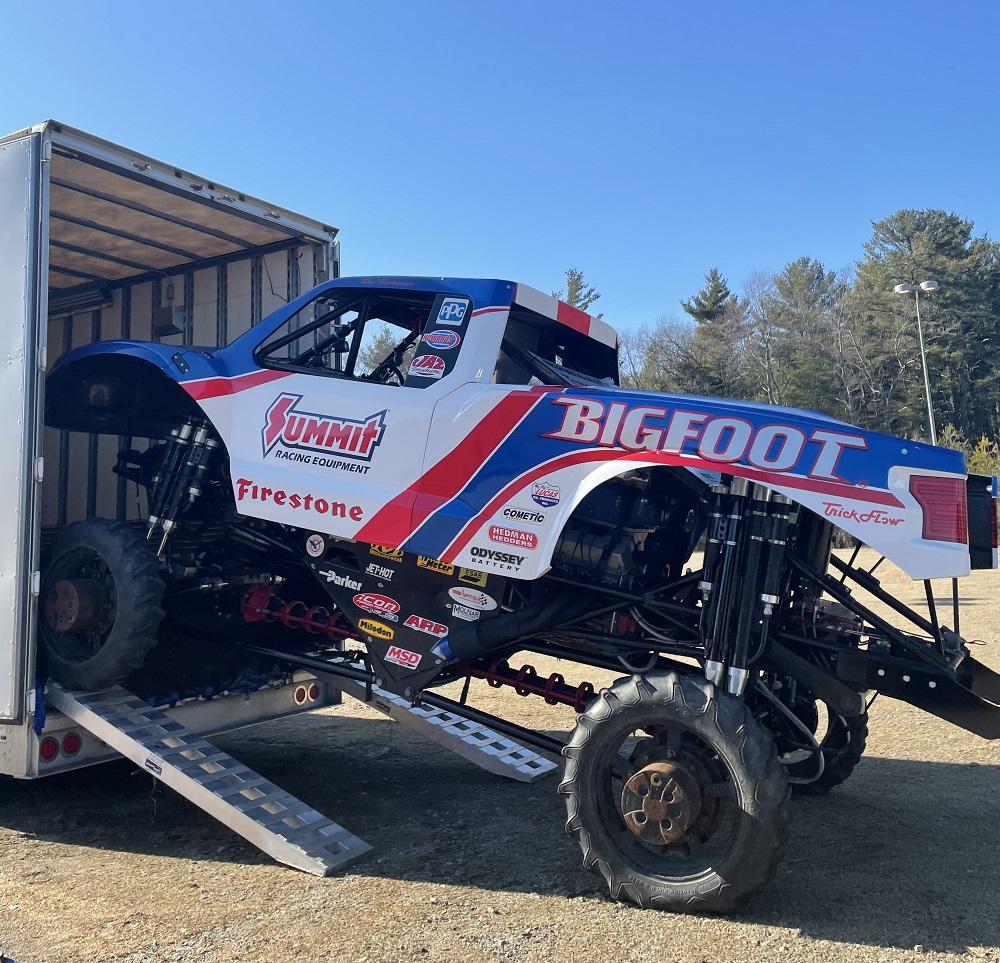 Activities
We downloaded and participated in the "I Spy Challenge" which encourages kids to find and spy cars and props along the way. My kids enjoyed this and the challenge kept them on the lookout throughout the drive. You can download the "I Spy Challenge" here. There is additional audio especially for the crash zone, legends cars and monster trucks part of the drive-thru course.
Getting There
We had a little trouble finding the site, it's at Gillette Stadium but at one of the parking lots across from Patriot Place. We recommend using the 67 Washington St Foxborough, MA 02035 address in your GPS. There are signs around Gillette steering towards the location but with the vaccination site also at Gillette we somehow missed those.
Overall this is a great event for kids who are into trucks and cars and a great socially distanced activity to do during COVID restrictions. Everything seemed to be handled according to COVID guidance. It's family friendly and appropriate for all ages, especially those into trucks and cars!
For a complete schedule and additional event information, visit https://hotwheelsmonstertruckslive.com/event/foxborough/. Guests can purchase tickets for an assigned date for just $45 per vehicle, and will receive a FREE Hot Wheels 3-Car Pack with EVERY ticket purchased. Hot Wheels and BIGFOOT merchandise bundles are also available for purchase online for contactless pickup, allowing guests to bring part of the Hot Wheels experience home with them. Tickets and add-ons will go on sale to the general public Thursday, March 4 at 10 a.m. at https://hotwheelsmonstertruckslive.com/event/foxborough/. Tickets can also be purchased at participating O'Reilly Auto Parts stores.
Use code TWINMILL for a $10 discount on Thursday or Friday admission!
Just $35 for a car pass and complimentary Hot Wheels Three-Car Pack.
Code expires April 16, 2021

Hot Wheels Ultimate Drive-Thru and the Hot Wheels Monster Trucks Live™ tour is a partnership between Mattel and Raycom-Legacy Content Company.
Paloma Standley is a Tewksbury mom of 2 daughters, ages 5 and 2. She is a full time working mom and loves taking on new adventures with her kids. When not seeking out exciting new things to try with her kids, she loves hiking, cooking, biking and traveling.