NIKE Flag Football Camps invite young athletes of all levels in grades 2–7 to join the fun this summer and take their game to the next level at Concord Academy. Our experienced NIKE staff members, led by Camp Director Scott McCartney, will help each camper learn the fundamentals to develop their skills and use proper techniques.
Camp is conducted at Concord Academy, Moriarty Athletic Campus, 153 Fairhaven Rd, Concord, MA. Hours are 9:00 AM - 3:00 PM, Monday–Thursday and 9:00 AM - 12:00 PM on Friday. Campers will be divided into three groups based on grade, 2–3, 4–5 and 6–7. Daily activities will focus on general offensive and defensive drills, passing the ball, receiving the ball, taking hands off, how to snap the ball, running routes and pulling flags. Beyond these skills, we will help campers learn footwork, team play, proper stretching, and warm-ups.
Highlights of camp are: NIKE Flag Football Camp T-Shirt and NIKE Flag Football Tote Bag, Skills Development by Position, Grouping by Grade Level, Flag Football Games, Discussions on Safety and Sportsmanship and Nike Prizes.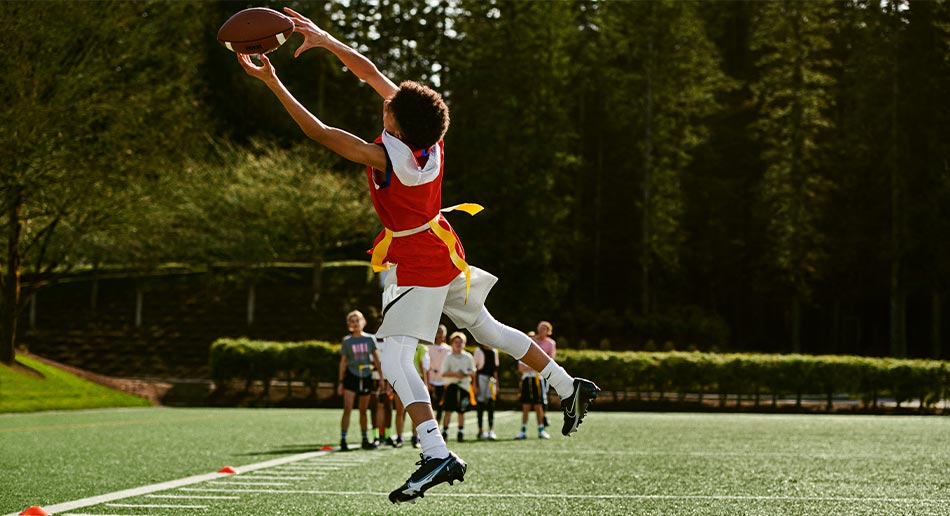 Throughout the week, daily games are held, and players are evaluated based on the skills they learned earlier in the day. On Thursday, teams are created to play in our FRIDAY CHAMPIONSHIP TOURNAMENT! This is a round robin event.
Camp provides a great opportunity for any young athlete looking to improve their game, have fun, make new friends, and raise their confidence.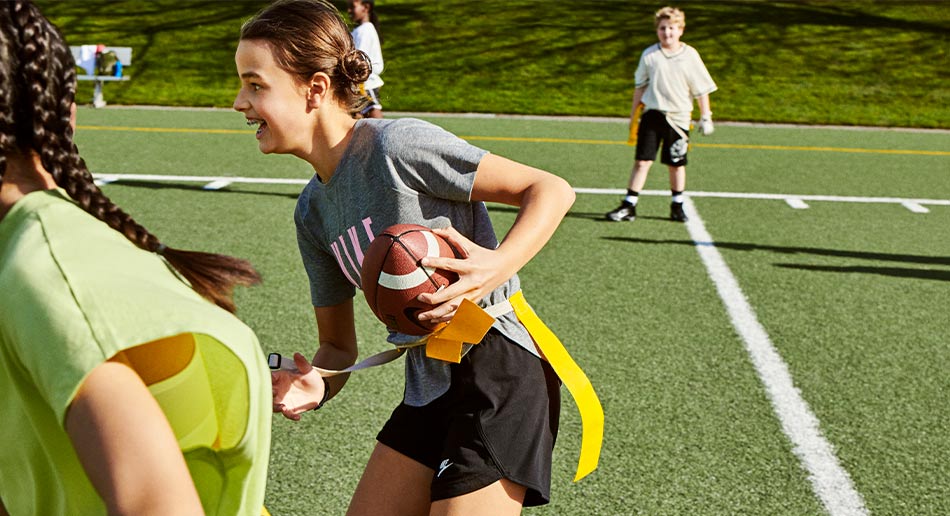 SECURE YOUR SPOT!
Due to local and state regulations, we anticipate having to reduce our enrollment numbers significantly this year. You can expect a high demand on these first-come-first-serve camper spots, so please be sure to register early.
Covid Safety Practices are put in place. We have an athletic trainer on-site to help with illness or injury. In case of an emergency, campers will be transported to the nearest hospital. This is a no-contact sport with low camper to coach ratio.
Campers are required to bring their own lunch. The only clothing requirement is football shoes (NO metal-tip cleats), tennis shoes, athletic shorts, and a t-shirt.
For more information or to register for our camp at Concord Academy, visit www.ussportscamps.com.

Concord Academy
Moriarty Athletic Campus
153 Fairhaven Rd
Concord MA 01742