Flerra Meadows Playground
400 Stow Rd
Boxborough MA
Date/Time Visited: Wednesday, March 31, 2021
Bathrooms: Seasonal portable toilets
Parking: Dirt lot for playground and baseball/soccer fields
Shade: Areas of shade depending on the time of day. Playground equipment is in full sun all day.
Benches/Tables: Quite a few benches and picnic tables both inside the playground area fencing and outside the playground in the field. Trash cans located onsite.
Last Wednesday, I visited the Flerra Meadows playground with my 3-year old daughter and 9-year old son so they could burn some energy while I gazed into the distance, numb from the on-going pandemic. It was a great escape for them, and for me. Flerra Meadows has a lot to offer visitors, including the playground. a Gaga Ball Pit, and adjacent fields. Open from dawn to dusk, the property has a baseball diamond and large fields surrounded by woods.
I saw people sitting on benches by a small pond as we drove in, while others were walking their dogs along the outer edges of the fields. I drove all the way to the end of the dirt parking lot where the playground is situated. There is plenty of parking as well as bike racks. Port-a-Potties are also available.
After we parked, my son quickly ran over to a group of friendly boys and joined a flag football game. My daughter excitedly ran over to check out all the different play structures, some geared for 2-5 year olds and others for 5-12 year olds.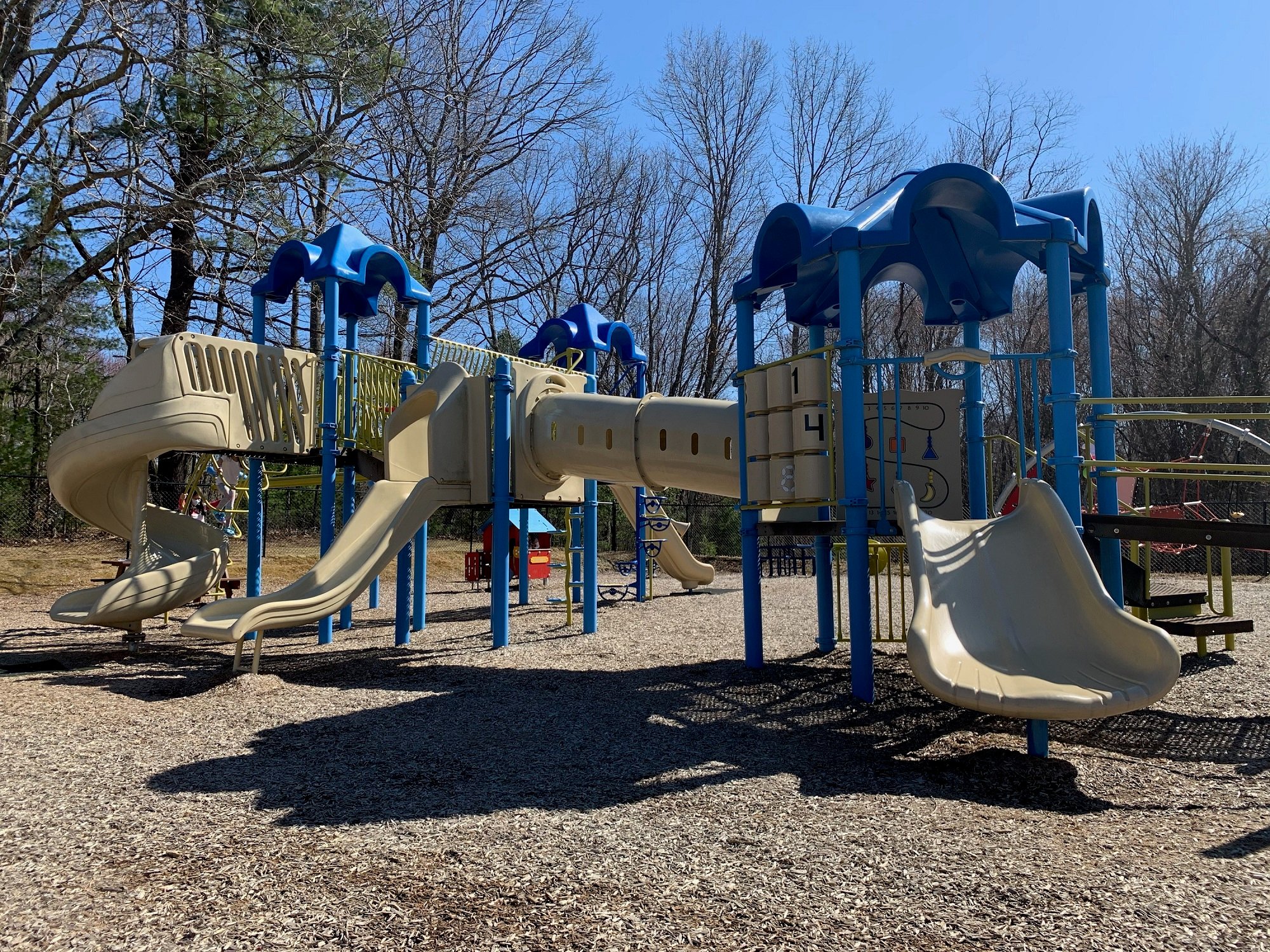 Unlike other parks in the Acton-Boxborough area, Flerra Meadows has a few trash bins right at the playground entrance which is convenient and helps keep the park clean.
Wednesday was a warm and sunny day. There were a dozen other people there, but the playground itself is large enough for people to spread out. Everyone we saw was wearing a mask and that helped me feel at ease. My daughter loved the various slides, tunnels, climbing structures, and play cafe. The cafe has a covered roof and a spot inside where a child can pretend to cook. My daughter loves to take the wood chips from the ground and mix them in the cafe's bowl with various sticks. She also kept herself very busy with a color sorter she found in one of the play areas.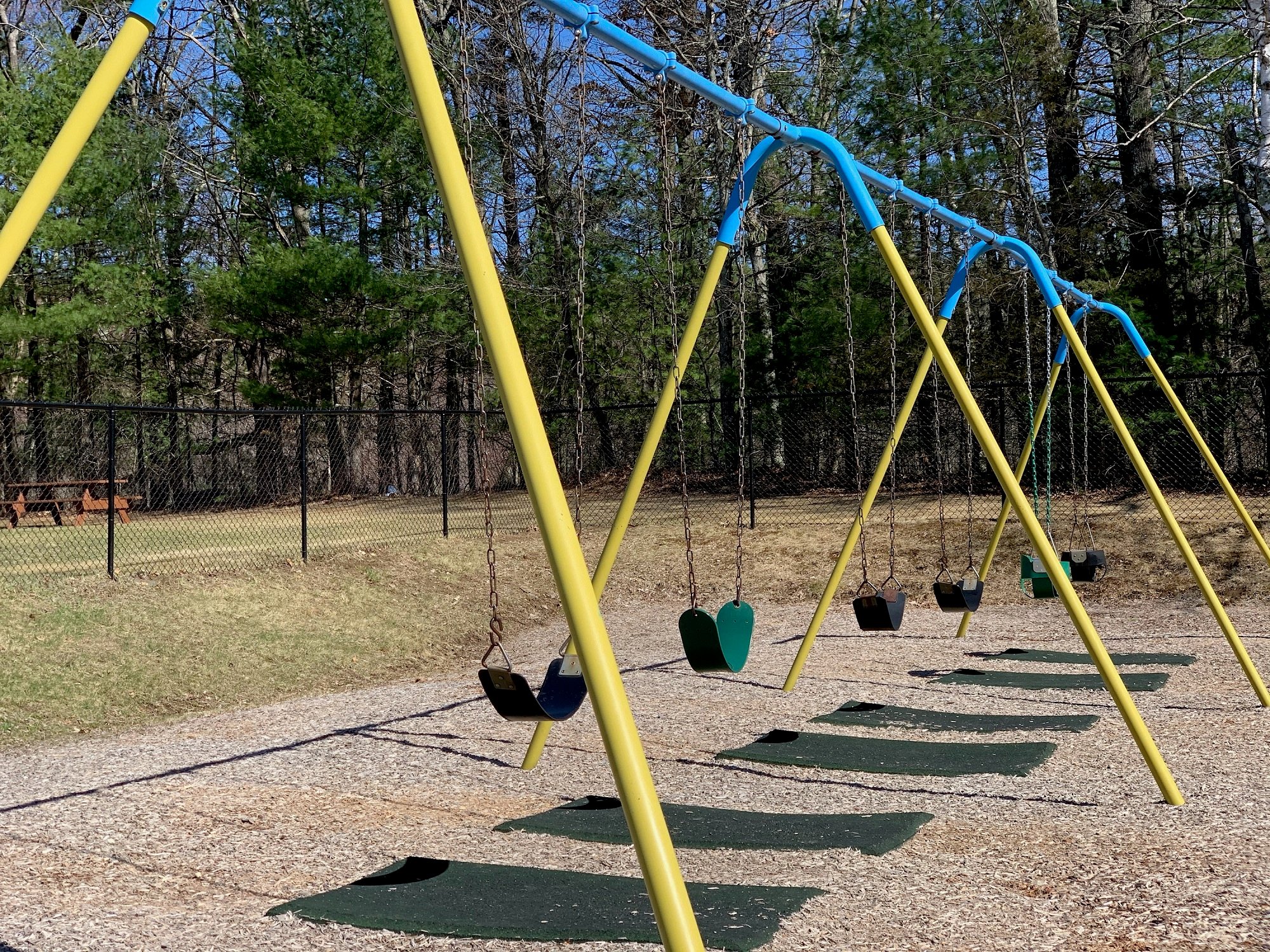 Parents of wandering toddlers will appreciate that this playground is fenced in. My daughter doesn't really dash off anymore, but I liked that I could spot her anywhere she was playing from the bench I sat on.
One unique feature we really enjoyed was Gaga Ball Pit, a large enclosed sand game area which is next to the playground. What is Gaga Ball? None of the children were playing Gaga Ball at the time so I brought out some sand toys from my car and let my daughter play in the sand. The sand was clean and soft and she enjoyed it.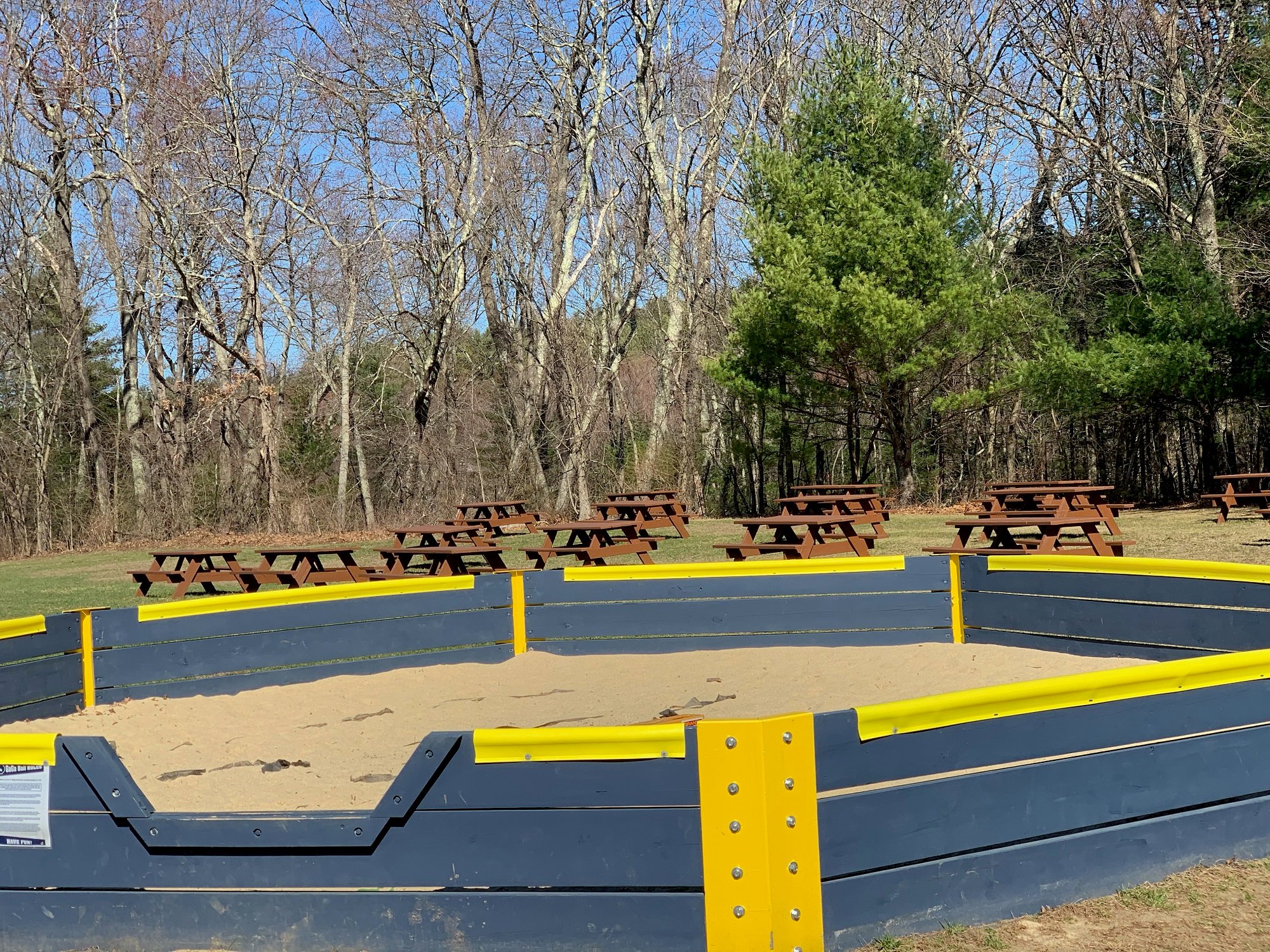 There are nearly a dozen picnic tables near the Gaga Ball Pit. It's not a covered area but the tables are grouped together, around 6 feet apart. There are many benches and picnic tables inside the playground area as well.
Our visit lasted only a couple hours but we could have made an afternoon out of it by packing a picnic and biking or driving over with sand toys, balls, and a kite. Little ones might like to lay on a blanket and watch the single engine planes fly overhead to and from Minute Man Air Field.

Macaroni Kid Acton-Concord-Bedford-Lexington is a free weekly newsletter and website focused on fun events and information for local families.
We gather together all kinds of local family events and activities each week, and add useful information about classes, family-focused businesses, book and product reviews, recipes, crafts, school and camp guides and more. We proudly serve thousands of families in Acton, Bedford, Boxborough, Carlisle, Concord, Lexington, Lincoln, Maynard and other surrounding communities.
Subscribe today to receive our email newsletter every Thursday!

Follow us on Facebook, Instagram or Twitter.
Advertise with us to connect with thousands of local families!