We've put together a list of all the fun local things to do and places to go this summer! As always, keep in mind that this edition of Macaroni Kid focuses on Acton, Bedford, Boxborough, Carlisle, Concord, Lexington, Lincoln and Maynard. There are tons of activities outside our area but this list is about keeping it LOCAL, EASY and FUN!
FIRST THINGS FIRST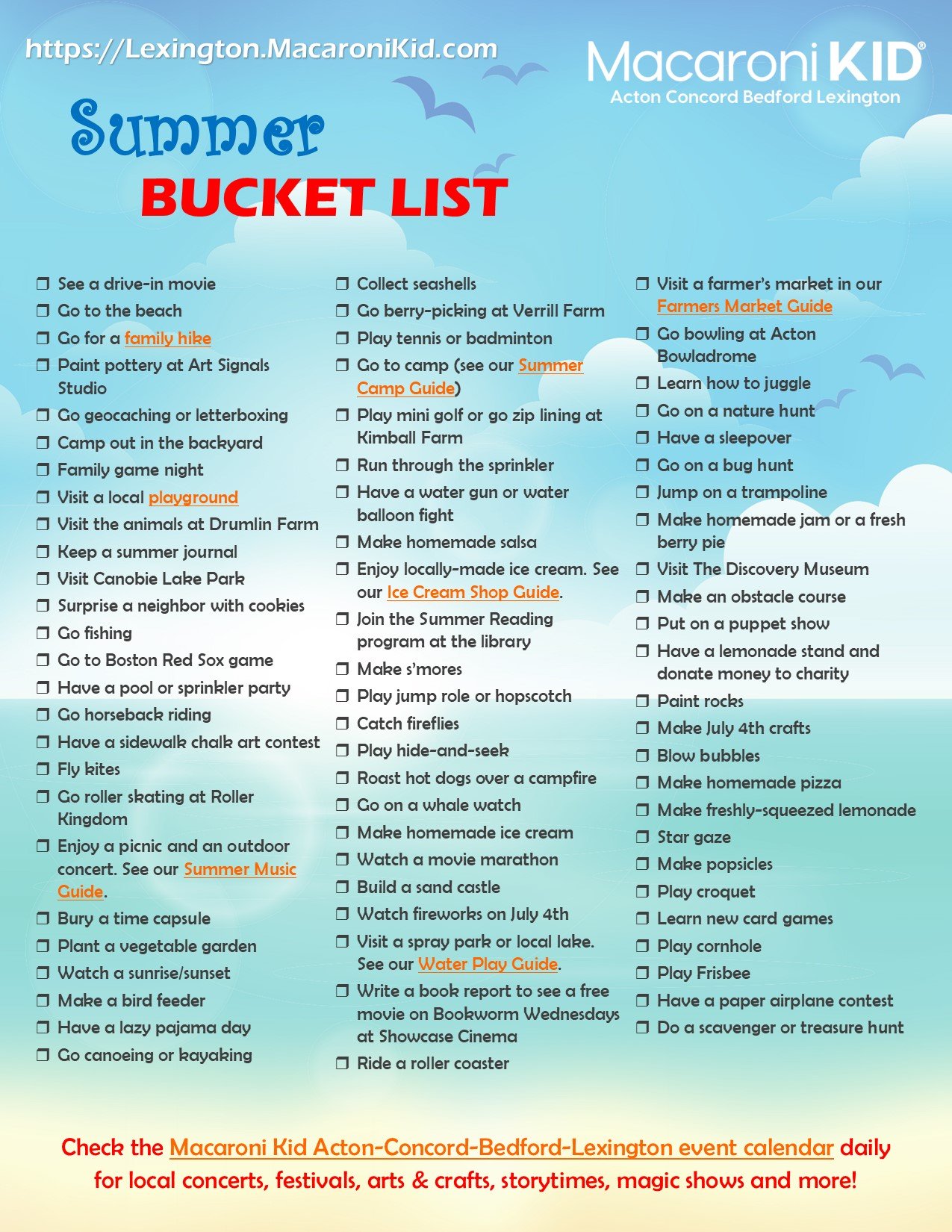 SUMMER READING
ONLY IN SUMMER
FESTIVALS AND ANNUAL EVENTS (details on our event calendar)
June 16: Strawberry Festival
June 18: 54th Annual Fifer's Day
June 25: Carlisle Old Home Day
June 30-July 4: Lexington Carnival with Fireworks on July 1
July 16: Blueberry Pancake Breakfast at Verrill Farm
July 24: Beach Party at NARA Park Beach
August 13: 19th Annual Peach Festival at Carlson Orchards
August 13 & 14: Hollis Hill Farm Sunflower Festival
August 14: Bedford Job Lane Field Day
August 20: Corn & Tomato Festival at Verrill Farms
Lexington Bicentennial Band
Bedford Summer Concerts
Concord Summer Concert
NARA Park
Lexington Chamber of Commerce Summer Concerts
Lincoln Summer Concerts
OUTDOOR FUN
Pick your own...
Visit a playground...
Stay cool...
In your community...
In your backyard...


INDOOR FUN
Get the wiggles out at...
Get creative...
Do these projects at home:
Learn something new at...
See a movie...
BIKES, TRAINS and AUTOMOBILES
Macaroni Kid Acton-Concord-Bedford-Lexington is a free weekly newsletter and website focused on fun events and information for local families.
We gather together all kinds of local family events and activities each week, and add useful information about classes, family-focused businesses, book and product reviews, recipes, crafts, school and camp guides and more. We proudly serve thousands of families in Acton, Bedford, Boxborough, Carlisle, Concord, Lexington, Lincoln, Maynard and other surrounding communities.
Subscribe today to receive our email newsletter every Thursday!

Follow us on Facebook, Instagram or Twitter.
Advertise with us to connect with thousands of local families!